Happy Sunday! I just wanted to pop by and remind you that Google Reader is closing tomorrow.  Considering that Google Reader graduated out of Google Labs around the time I started blogging regularly, almost six years ago, this is all kinds of odd.  I spent the last couple of months mulling what post-Reader alternative I would use – whether I would even use one – and as I write this am currently importing my Reader subscriptions into Bloglovin, for now.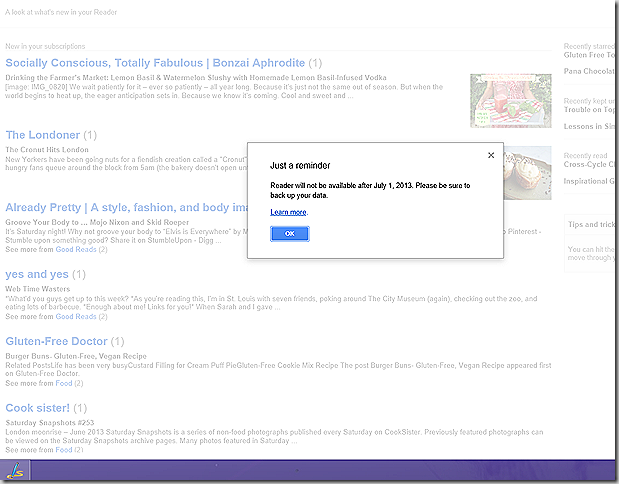 There are many ways you can stay in touch with City Life Eats (and yes, posts will be more frequent again):
Feedly – According to Lifehacker, this was voted the best app to replace Google Reader.  While it started as a mobile app, the desktop version is good as long as you use Safari, Chrome, or Firefox. You have to log in with your Gmail account and you you can organize things into categories.
Bloglovin'. No way to organize feeds, but it streams the content in a fairly timely way, or so I am told (my husband tried several reader alternatives while I kept clicking into Google Reader the last few weeks). It did allow me to keep my broad categories from Google Reader, so maybe more organization will be available soon?
Netvibes – I found out about this one from Corporette, and considering Kat is one of the savviest bloggers out there in terms of giving good advice to make your life simpler, I am including it.
You can, of course, always stay in touch with:
As for the title, City Life Eats is not going the way of Google Reader – see you in July!  There will be food, maybe even a recipe or two (recipe inspiration has been sorely lacking lately), and self-care, especially as I am participating in Cheryl's Third (!) July Self-Care Retreat.
General Disclosures
&
Disclaimers