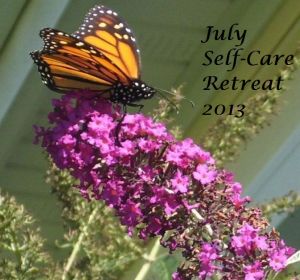 And, just like that, it is the third July in a row that I am participating in a Self-Care Retreat with Cheryl of Gluten-Free Goodness and a fantastic group of bloggers.  We are taking turns hosting every week:
In July 2011 and 2012, I wrote about working on making movement and creativity more significant parts of my self-care, and there is something really gratifying about being able to look back and see how both of these things have had staying power.  Things that have had less staying power are meditation and checking in with myself, especially lately.  So this month, I have the following three goals:
Check in with myself, every day, and either write down how I feel or think about how I feel for a few minutes.
Twice a week, completely clear my head and focus on my breath for at least 10 minutes – this can be during yoga, at the gym, or in a more traditional meditative setting.  And yes, twice a week = baby steps.  Ideally, this would be more like 5-6 days a week.
Focus on drinking more water – I am not sure how it happened, but I lost that habit, which has been lifelong. Very odd. Time to add it back in.
Blog more regularly – in an attempt to simplify life, I have let blogging go from a frequent to an occasional practice.  I tend to be very either or with blogging – either I blog often, sometimes at the cost of some sleep or other activities, or I do not feel like I blog enough.  That said, blogging does enrich my life in so many ways, so time to resume the practice.
As far as how it is going so far – I have found the rowing machine at the gym to be a really good place for me to focus on my breath.  There is no TV attached on the treadmill or the elliptical, which helps.  Yoga, of course, is another good place, but I tend to zone out during yoga rather than focus on my breath … I know, I know, so not what yoga is about.  The checking in has helped, especially this past week, which was on the more stressful end of things.  The water thing is a work in progress and completely baffling to me – I used to effortlessly drink oodles of water.
As for blogging – I used to blog in the mornings, which astute readers will remember pre-dates my putting into a place a routine of working out in the morning.  Once I started working out in the morning regularly, I never found a new rhythm or routine around blogging, and it has shifted and been moved around quite a bit over time. 
I also have this – perhaps silly – rule that I do not get up before 6am until it is absolutely necessary.  I used to feel that way about getting up before 7am, incidentally, until about the time I started blogging, six years ago, which was also about the time I started wanting to do morning pages.  Then over the years the absolutely necessary time became 6.30am, and now 6 to 6.15am to accommodate working out.  I wish there was a way to get up at 6am and somehow fit in: meditation, working out, shower, getting ready for work, blogging and eating breakfast, all before 8.25am when I leave for the office.  I manage the working out, the shower/getting ready, and most of breakfast, so four out of six is not bad. Some morning I even get laundry folded/put away  – incidentally, I do my best laundry folding when half asleep in the morning, or watching TV in the evening -  but back to blogging – I would really love to build a routine around it again. 
Ultimately, self-care to me is about maintaining routines and activities that help me take care of myself.  It sounds so simple, doesn't it?
Yet, as Cheryl said, self-care takes a village.  Our rule this month is that  the main rule is a non-rule – i.e. relax, take care of yourself and have fun.  
Why join us? Because self-care takes a village, too.
These posts are to inspire you all to make July a month of reflecting on self-care and the many ways to nourish ourselves.  We encourage everyone to participate in this event in a way that feels appropriate to them, whether through making different choices around food, adding in movement, personal reflection, journaling or other self-care.  If you would like to share your experience with self-care, we would love to include you in the experience, whether you join us for one week or every week. We ask that you link back to Cheryl's kick off post as well as any of the hostesses so that more people can learn about this retreat, and leave a comment for the weekly theme host, too! That way, we can make sure we see your post and that you're entered into the drawing.  If you are not a blogger, no problem. Feel free to email me or one of the other hostesses your goals and progress and we will post it on one of our blogs.
As a little added incentive, for each post on your goals and your progress you link back to Cheryl's kick off post or here or one of the other co-hosts, you'll be entered to receive a $50 gift certificate to Nuts.com (they are not sponsoring, but Cheryl is fabulous and picked out something that had  healthy gluten-free, vegan, sugar-free, etc. options)
We also have a Facebook group and we'd love to have you join us! Just send along a request, as it is listed as a private group.  
General Disclosures
&
Disclaimers