Happy Monday! Yesterday, for the first time in a long time, I went to yoga at 11am, which is late in the day for me. Usually I go to 7am classes, and occasionally to a 9am class on weekends. I always think I am not that flexible (despite going on a dozen years of yoga, with some hiatus time in there), but really, I just forget that I am way more flexible later in the day. In fact, my left knee, which tends to be cranky and achy (there's some bits of cartilage floating about)– well, it is way happier later in the day.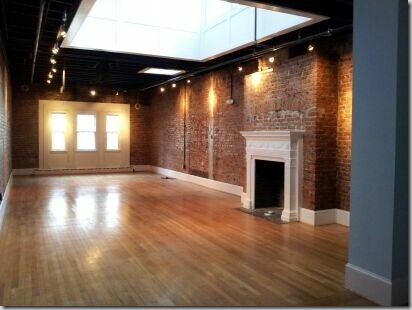 Sunday's 11 am experiment was also notable in that I tried a new yoga studio.  My travel schedule is so packed in the next few weeks that I decided to just put my regular Tranquilspace membership on hold and try out Epic Yoga ($20 first week, 50$ first month) – at that price, I feel less guilty about not making it as often (seeing as a monthly yoga membership is at least $100 in my area) to a studio class on account of travel. And, it means I get to try a new studio, with a different approach to yoga.  What really sold me is that Epic has a 6.30am class on weekdays, a timeslot I have been wanting to try.  I went this morning in fact.  All the morning classes are moderately heated (about 85-90) vinyasa which is about as hot as I like in terms of hot yoga. Yesterday's 11am class was unheated and also a vinyasa class. 
This now two-day old experiment is such a good reminder about pushing oneself out of the good old comfort zone. With the exception of a jaunt to Darren Main's studio when I was in San Francisco, last year, I have only done yoga at Tranquilspace for a couple of years now.  And while I never cease to be amazed at how consistent a presence yoga and movement have become in my life (especially in the morning, which, again, cue amazement), consistency and routines do benefit from a little change.  Some of it is literally a change in surroundings – ie practicing in a different studio – and some of it is practicing with different teachers.  At this point, I tend to go to the same six or seven classes at Tranquilspace, with the same handful of teachers, whom I love, but I am also guilty of zoning out a bit as I tend to anticipate the next sequence.  I do not tend to pay for guest workshops or teachers (which I used to do in the past), because I figure I already pay for the membership. 
Also, funny things happen when you go somewhere new – Epic has a destress class on Sunday nights, which I assumed would be a restorative type class. Turns out, it's actually a vinyasa flow class, just a slow flow (much like Darren Main's class last year, funnily enough) – so in the last 24 hours, I have done three flow yoga classes, all three with completely different sequences, and my shoulders and arms are sure feeling the difference.  There is a sense of "new" in a routine right now, which is nice.  I still think a membership to a studio is the key for me to practice consistently (this is a blog post all of its own) but wherever this membership is, I am going to make a point to mix things up a bit.     
And finally – remember my July self-care goals? Somehow, I am finding myself focusing on something else – yoga, mainly, but also getting to bed earlier, which I suppose is necessary in order to go to 6.30am classes. At the risk of stating the obvious – 6.30 feels a lot earlier than 7.  The check-in's and faux meditation are not really happening, nor is the water – though right after I finish this blog post, I am off to drink a big glass of water.  
General Disclosures
&
Disclaimers