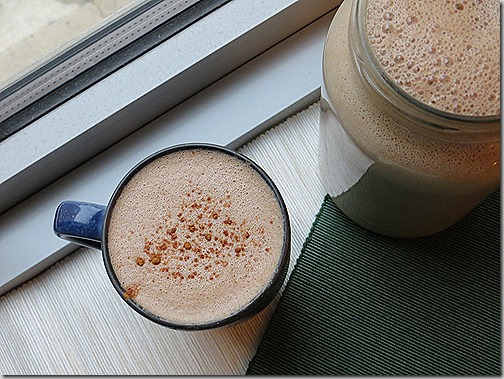 Did you know the Starbucks Pumpkin Spice Latte is 10 years old this fall? It sure feels like it has been around longer than that, probably because I have a vague recollection of having a pumpkin spice latte when I was in college –  maybe at Trident's though I suspect, more likely, at  a coffee shop down the street from that where I made the realization that raspberry mochas are terrible. Sort of like a fruity carpet mixed into coffee. Ok, maybe not, but I have never had a raspberry mocha since, despite loving the combination of chocolate and raspberries, just not with coffee. 
So coffee, yes – it's been a while. I must have tried the Starbucks PSL that fall because once upon a time, Starbucks was most definitely my happy place.  I always knew what the seasonal drinks were, and which pastries were new.  Come to think of it, I seem to remember the PSL fall was also the fall the Peppermint Hot Cocoa came out, and I do remember being obsessed with that … but anyways, these days – well pastries at Starbucks are not really made for those of us who eat gluten-free and vegan and coffee and I … well, it's been a while.
Without getting too #firstworldproblems on you, though, a note on nostalgia, and food nostalgia in particular.  Things change. Life changes. Memories get filed away, sometimes forgotten, sometime re-remembered. Food memories are amongst the most evocative for me. When I started writing this post, I could not remember anything Starbucks-related about Fall 2003, and  wrote above "I must have tried the Starbucks PSL" and then I remembered the Peppermint Hot Cocoa, and how I kept having a quandary about which of the two to order that fall.  These days though, I do not drink coffee, I gave up dairy completely a few years ago, and flavor syrups are the type of ingredient where there could be hidden gluten, so I never get these types of flavored drinks anymore – I could not even tell you the last time I had a Starbucks PSL.    
The pumpkin spice latte below is very different than the Starbucks one – it is inspired by Goûter here in Washington, DC. I first discovered Goûter last year but the Goûter pumpkin spice latte is a 2013 addition to the line-up. I sampled it at VegFest (note to self, must tell you about the fun stuff I tried there) back in September, where V, the owner of Goûter, told me all about the ingredients they use, including Junius cold-brew coffee and homemade almond milk.  Inspired by the above, I set out to recreate a pumpkin spice latte-like beverage, minus the coffee. Turns out I was out of almonds, so I went with a hemp seed base, and played around with varying ratios of cacao nibs and/or carob.  The result is lovely on its own, but would also make a great base for a smoothie (add a banana and some protein powder) and also, a great chia pudding base – you would just add about 3 tablespoons of chia seeds to a cup of the "latte"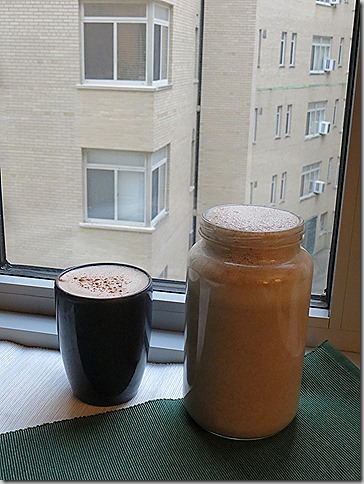 Raw Pumpkin Spice Latte (Gluten-Free, Vegan, Soy-Free, Nut-Free)
Makes about 4 cups. I would call that 2-3 generous servings.
This latte is technically high-raw rather than fully raw – the carob is roasted as is the pumpkin spice mix. but feel free to substitute both with raw ingredients for a completely raw latte.  That said, the rosated carob adds that slight roasted smokiness of coffee, so I find it a worthy addition, particularly when combined with the cacao nibs.
4 cups water
1 cup raw hulled hemp seeds
2 tablespoons raw cacao nibs 
4-8 pitted dates (I thought 6 was just right, but feel free to adjust to your taste)
1 tablespoon roasted carob
1 tablespoon pumpkin spice plus more for garnish
Tiny pinch of salt
Liquid sweetener of your choice, to taste (optional)
Blend all ingredients in a high-speed blender.  Chill a couple of hours (overnight is best), stir well as the spices tend to settle, and serve.
A few last notes: if you chop the dates beforehand, a regular blender should do the job just as well as a high speed blender. Or, feel free to substitute a liquid sweetener of your choice.  I see no reason why you could not heat this for a more authentic experience, but I really love the flavor of this beverage cold. And finally, while this is thick beverage that has a tendency to separate, it is not worth straining it – I tried and found the flavor got lost.
I am going to submit this to my friend Heather's weekly event, Raw Foods Thursdays at Gluten-Free Cat. I got to meet Heather this summer, and she is fantastic.  Be sure to check out her raw and cooked recipes.  I have cooked from her blog for over three years – and have been honored that she has cooked recipes from mine and guest-blogged here as well.  
General Disclosures
&
Disclaimers