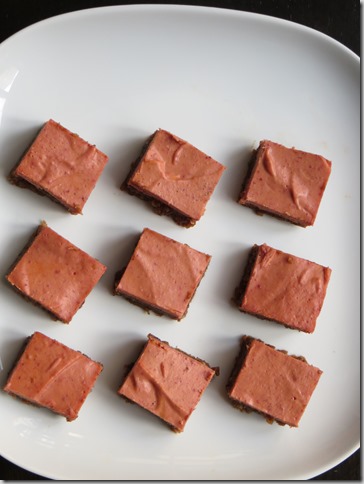 No, cutting dessert bars is not my forte….
Happy Thanksgiving Eve! This time of year is always an interesting one for those of us with modified diets – whether those modifications are for health or ethics, by choice or not – there can be a combination of nostalgia, frustration, or a feeling of loss.  This is my fifth holiday season gluten-free and dairy-free (leaning vegan, but still flexitarian), and my third holiday season gluten-free and vegan.  At this point, having a modified diet is starting to feel like second nature. I have stuck to some traditions (yay for vegan ice cream!) and changed others.  I am also lucky in that my family and friends are very supportive. Tomorrow I get to spend Thanksgiving with friends who will be feeding me lovely roasted veggies (I am bringing a large kale salad with wild rice for my entrée) and I know I will be just fine. 
Sometimes though, as I mentioned in my Starbucks post, food nostalgia appears.  Lately, if I get food nostalgia for desserts, I tend to go the raw vegan route – some of it is that I love the creativity of reinterpreting flavors of a dessert using nuts, seeds, fruits and spices (oh, and cacao, of course), but some of it is time. I love how a little time with the food processor yields a a raw dessert. Bam, done, and no waiting for the oven to preheat or anything like that.
All that said, whenever I make any sort of gluten-free dessert, my go-to resource is Shirley's All Gluten-Free Desserts…All the Time!  Whether I am following a recipe, or need inspiration, this is the place to go.
All Gluten-Free Desserts…All the Time is easily the best central gluten-free dessert resource out there – kudos to Shirley of gfe for curating and maintaining such an amazing "dessert clearing-house."  Whether you are newly diagnosed, or an old hand at life gluten-free, or somewhere in between, like me, All Gluten-Free Desserts…All the Time is the place to go Shirley tags the recipes  as vegetarian, vegan, dairy-free, paleo, etc. to make the site easier to navigate regardless of your diet.  Finally, Happy 1-Year Anniversary – Shirley celebrated with a roundup of the Top 50 recipes featured in the last year. Yum!
Raw Thanksgiving Bars with Cranberry Frosting (gluten-free, vegan, soy-free)
Makes 12-16 bars
Replete with the warm notes of cinnamon and cloves, these bars truly are Thanksgiving in a bar.  The slightly tangy cranberry frosting gives an added dimension to the bars' flavor profile, but feel free to substitute your favorite frosting and, if you like, blend some cranberries into your go-to frosting.  Also, a note on coconut butter: I used Artisana Coconut Butter, but other brands call it creamed coconut or coconut cream concentrate: It is all the same thing and just depends who makes it. Let's Do Organic calls it Creamed Coconut , Artisana calls it Coconut Butter, Nutiva calls it coconut manna , and Tropical Traditions calls it coconut cream concentrate.  You can also make it from scratch, as did Lexie of Lexie's Kitchen.  Finally, a note on tools: I made the base of these bars in a food processor and the frosting in a high-speed blender.  You could make the whole recipe using a food processor.  You could also make the frosting using a regular blender, though a high-speed blender would work best.  You cannot make the base of the recipe without a food processor or, at least, a mini-prep.  Finally, if you would like to have a complete pumpkin spice experience, you could serve these bars with a batch of Raw Pumpkin Spice Latte.
2 cups pitted dates (you could use Medjool dates or smaller brown dates)
1 cup raw walnuts or walnut pieces (pecans would be a great substitute)
1 cup raw almonds
2 teaspoons pumpkin pie spice
1/4 teaspoon ground ginger
1/2 cup fresh or frozen cranberries
1/4 to 1/2 cup room warm water (water should be warm to the touch)
1/2 cup coconut butter (not coconut oil, see recipe notes for further information)
2 tablespoons raw cashew butter (if using a high-speed blender, you can substitute 3 tablespoons of raw cashews)
1/4 cup coconut syrup or other liquid sweetener (adjust to taste)
1/4 dried goji berries or other dried berries (optional, use additional sweetener if you skip this ingredient)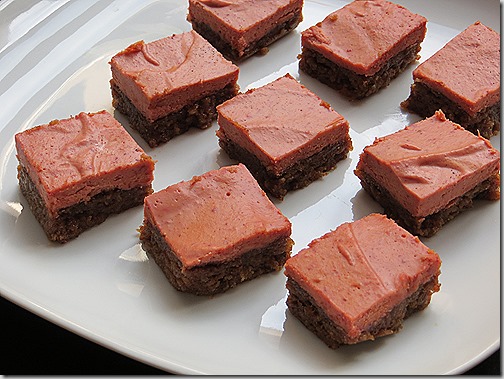 Line an 8 inch square pan (or pan of similar dimensions) with parchment paper.  Process dates, walnuts, almonds and spices together in a food processor fitted with the S blade. Press into pan and place in refrigerator to set for about an hour.  You can serve these bars as is by simply cutting into squares, or move on to making the frosting.  For the frosting, blend cranberries, water, coconut butter, cashew butter, sweetener and dried berries (if using) in a high-speed blender.  Spread frosting  over the bars.  For a thick layer of frosting, use the whole batch of frosting. For a thinner layer (like the middle bar in the front row above), use half the frosting and save the other half to spread on apple slices – by the way, raw cacao nibs are a nice addition to that apple-frosting combination, just saying.  Back to the bars – place frosted bars into fridge and refrigerate until the frosting hardens – at least an hour, maybe two if you went the thick-frosting route.   Cut into bars.     
General Disclosures
&
Disclaimers