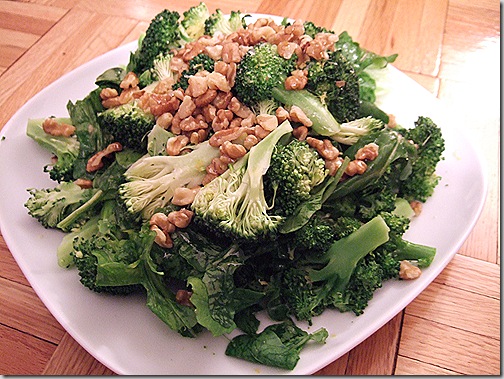 My taste buds always seem to cravor spring and summer flavors, despite several years of eating mostly locally and seasonally.  This salad, with the peppery flavor of the arugula and lots of bright lemon flavors reminds me of spring, but also has the more seasonal ingredient of broccoli included.  This would be a good salad if you don't really crave cold salads in winter, much like my Warm Carrot Broccoli Slaw.  The idea here is to wilt the arugula ever so slightly with the steamed broccoli, and raise the heartiness quotient with a generous dousing of olive oil and some crunchy walnuts.
Arugula and Broccoli Salad (Gluten-Free, Vegan, Soy-Free) – Serves 2 to 4 people
I really like to turn this salad into a meal with a side of Chickpea Quinoa Salad or Roasted Onion Quinoa Azuki Salad and a few crackers or zucchini rounds spread with Scallion Cashew Vegan Cheese. You can toast the walnuts for additional fragrance, but I prefer them raw in this recipe.
4 cups broccoli florets
3 cups arugula, torn into bite-sized pieces
1/4 cup fresh lemon juice (about 2 lemons' worth)
2 tablespoons extra-virgin olive oil
1/2 teaspoon sea salt
Freshly ground black pepper
1/2 cup raw walnuts
Place a steamer insert into a medium pot of water, and bring to a boil. Steam the broccoli until just crisp-tender, which should take about five to eight minutes (note: you could use a rice cooker with a steamer insert).  Place about half the broccoli in a large bowl, top with the arugula and the rest of the broccoli such the arugula is in between the two layers of steaming broccoli.  Pour the quarter cup of lemon juice over the mixture and allow to rest at least 10 minutes. Prior to serving, toss arugula and broccoli with extra-virgin olive oil, salt and pepper and top with walnuts. 
I am submitting this recipe to the following blog events:
General Disclosures
&
Disclaimers