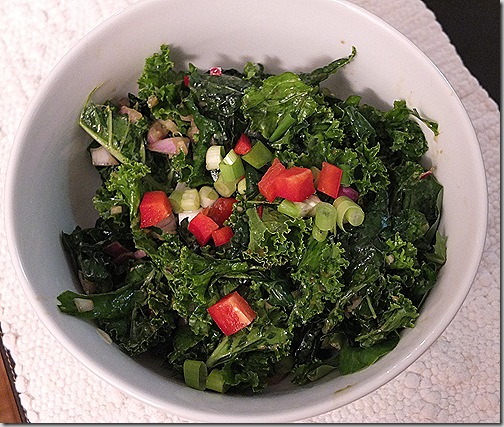 Happy Friday! Lately, I have been revisiting favorite recipes, mainly as things have been busy with my new job as well as on the fun-activities front (Gluten-Free Expo, Art Journaling class, trying out BodyPump) and less-fun activities (sinus issues).  I promise recaps on the fun activities, but in the meantime, here is a kale salad inspired by the Romaine Kale Salad I shared with you all back in January.  I created this version when I realized I was all out of romaine and cayenne but wanted a similar salad for dinner. Since then, I have re-ordered from my favorite spice store, Spicely on Amazon (Spicely also has its own website).  I love that Spicely certified gluten-free and have taken to ordering my spices from there – this time I got their one pound container of cayenne – but until the cayenne arrived, I came up with the alternative below.  The concept is the same – nutritional yeast, liquid aminos, lots of allium flavors – but the heat comes from the fresh jalapeño.
Jalapeño Kale Salad (gluten-free, vegan)
Makes 2-4 servings
The spice of the jalapeño and the pungency of the onions and garlic are balanced out by the fresh flavor of avocado oil.  Feel free to substitute extra-virgin olive oil or other cold-pressed oil of your choice.  For a milder salad, remove all the seeds and ribs from the jalapeños.  Serve this with a side of cooked quinoa and/or legumes for a satisfying meal.
6-8 cups torn kale leaves, which is about 1 large bunch kale, or 2 average sized ones, stemmed and torn into bite-sized pieces
1 tablespoon avocado oil
1/4 cup nutritional yeast (for those of you who asked me which brand to buy, I like this one)
3 tablespoons liquid aminos
1 cup finely chopped red onion (about one medium red onion.  You can make this salad with just 1/2 cup of red onion for a slightly less pungent flavor)
4 cloves garlic, chopped very finely (about 2 tablespoons)
1/4 cup finely chopped jalapeño (use your discretion to remove seeds and ribs, but remember to be careful when handling all hot chiles)
For garnish: hemp seeds, additional chopped jalapeño, chopped red bell pepper, chopped scallions
In a large bowl, massage the kale pieces with the avocado oil until slightly wilted. In a small bowl, mix the nutritional yeast with the liquid aminos (it will be thick and clumpy).  Massage the mixture into the kale leaves, distributing the mixture as evenly as possible.  Add the chopped red onion, garlic and jalapeño and toss gently.  Garnish with additional jalapeño or other garnishes such as hemp seeds prior to serving.
I am submitting this recipe to the following blog events:
General Disclosures
&
Disclaimers