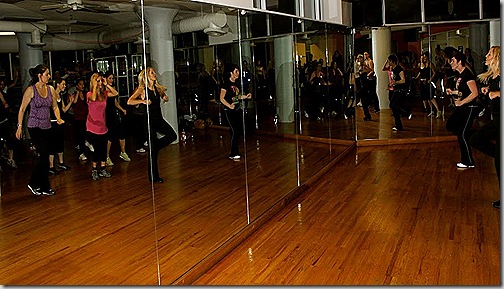 Happy Saturday! I am off shortly to DanceTrance DC (DTDC) – because of travel, it has been a couple of weeks since I have gotten to go to the Saturday class, and it is one of my favorite things to do on a Saturday morning.  In fact, since trying out DanceTrance in August, it has become a big part of my weekly movement routine and, in addition to Saturday,  I often go on at least one weeknight as well. Dance Trance has proven to be that additional bit of fun I needed to complement yoga and the gym – Dance Trance is definitely the type of workout where you forget you are working out.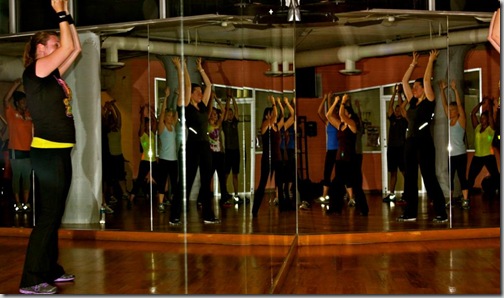 DanceTrance is a cardio dance workout, which combines several forms of dance moves, all to top 40 music. Despite being held at a gym (DTDC's home is Balance Gym, near Thomas Circle), the classes definitely have a music video/club-type atmosphere. The studio is often dim with flashing lights.  DT choreography is more complicated than other cardio dance classes I have been to, like Zumba, but I like how there is a more set choreography. The musical phrases (verses, chorus, bridge, and instrumentals) are all synchronized so movements repeat with the lyrics/music. There is definitely a DT method in that sense.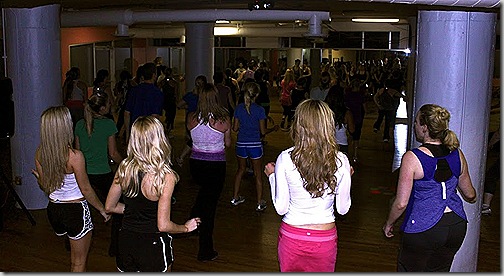 After having done Zumba for a year, I was actually looking to try Dance Trance but no DT location existed in 2011. This has all changed when Sarah Spears Sands (that's her in the middle, below, between Lauren on the left and Maria on the right) opened DanceTranceDC in May 2012.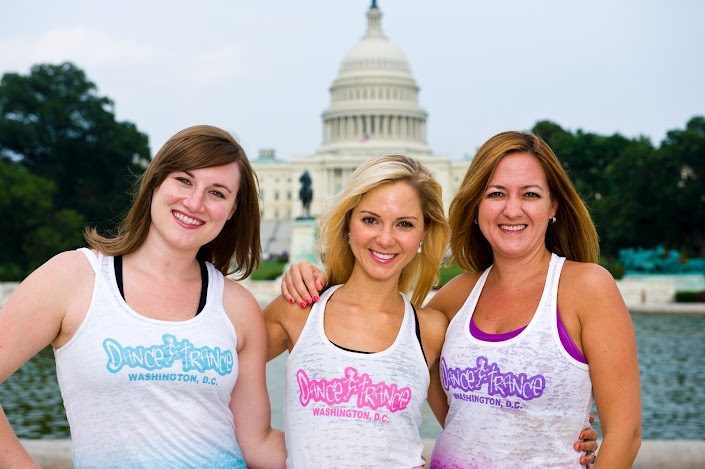 Sarah has done a phenomenal job at not only teaching great classes, but also building a community, with the help of Lauren and Maria.  For example, back in September, DTDC partnered with the Prevent Cancer Foundation and Balance Gym to host a special Dance Trance class (with DJ!) to prepare for a flash mob at an upcoming 5K.  Following the class there was also happy hour on the roof of Balance Gym.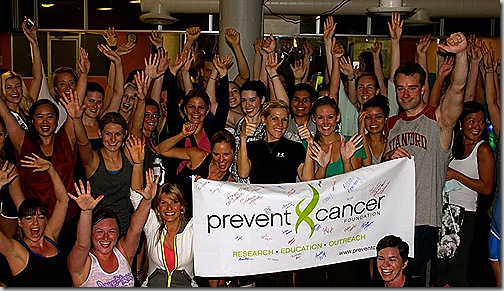 I was sad I could not make it to the Flash Mob for the Prevent Cancer 5K, because it looked really fun: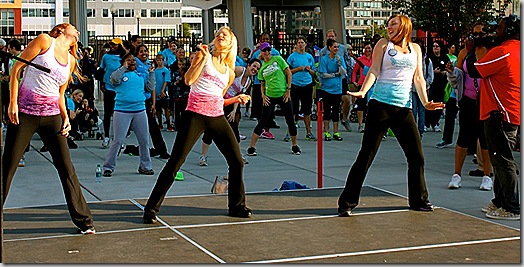 In October, there was Dance Trance's Dance in the Dark event for Halloween: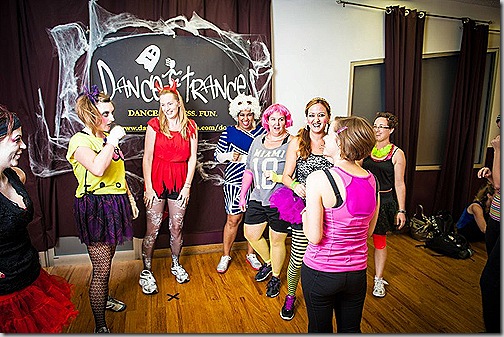 I did not dress up in costume, but it was really fun to see everyone dressed up and dancing.  Maybe I will scare up a costume next year … in the meantime, though, I am so glad Sarah has brought Dance Trance to the Washington, DC area (see here for locations outside the Washington area).  You can see more pictures of the various classes and community events on Facebook (you can even friend DTDC, or like them). 
All photos courtesy of Dance Trance DC.
Disclosure: In exchange for writing a series of blog posts on DTDC, DTDC has offered me a two-month complimentary DTDC membership.  I have received no additional compensation for these posts.  My opinion of DTDC is uninfluenced by receiving the complimentary membership, especially as I have previously paid for a DTDC membership and will resume doing so after my complimentary membership expires.
General Disclosures
&
Disclaimers