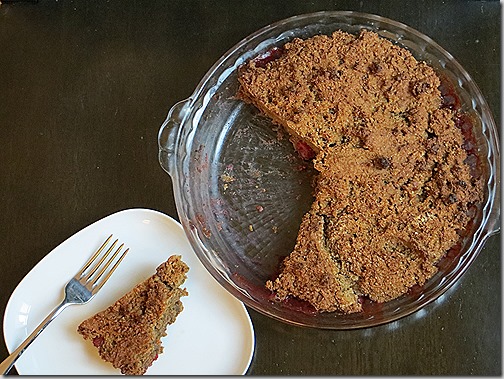 Happy Monday after Thanksgiving to my U.S. readers – and happy Monday to everyone else.  I had a bad case of the Mondays today, which is unusual for me.  So let's talk about pie instead.  Cranberry pie to be exact.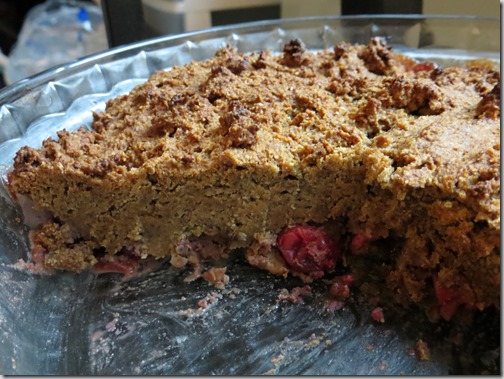 A pie which does not look like a pie, but nevertheless is made in a pie dish and not called a buckle, or betty or cobbler.  It all started when my friend Christina served a beautiful gluten-full Nantucket Pie at her Thanksgiving gathering. I had lots of dark chocolate and some raw Thanksgiving bars, so I was not sad I could not partake, but was tremendously curious.  I decided to go the grain-free route, as the original recipe calls for almond extract and I wanted to use almond flour in my pie adaption.  You will note the recipe does not have any starches or xantham gum – it makes for a denser, slightly crumblier pie, but I prefer the simplicity of fewer ingredients.  All things considered, the crumb in this pie is pretty fantastic, especially if you let the pie sit overnight in the fridge.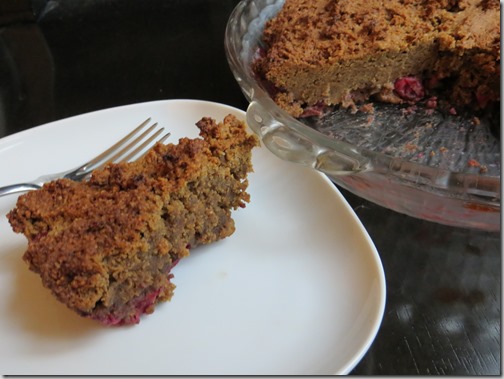 Grain-Free Vegan Cranberry Pie (gluten-free, vegan, soy-free)
Inspired by this recipe with help from this recipe from Shirley,  this page from All Gluten-Free Desserts All The Time and this recipe from Iris, which gave me the idea to use coconut milk as part of my initial substitutions.
This is a non-traditional pie in every sense of the word – more like a cake crossed with pie that is not too sweet.  It is also non-traditional in terms of the lack of usual gluten-free ingredients to ensure a cake holds up – starches, gums or eggs.  That said, this is a rich cake and bakes up a beautiful golden brown, and is absolutely worth including at your holiday table.
Coconut oil, to grease the pie plate

2 cups cranberries, fresh or frozen

1/2 cup raw walnut pieces (or walnut haves, chopped)

1/2 cup + 2 tablespoons coconut palm sugar, separated

1 1/2 cup blanched almond flour

1/4 cup coconut flour

1 teaspoon baking soda

1/4 teaspoon sea salt

3 tablespoons flax seeds

1 1/4 cup coconut milk (from a can – I used regular coconut milk, not "light")

1 teaspoon apple cider vinegar
Preheat oven to 350 degrees.
Grease 9-inch pie plate with coconut oil.  Place the cranberries in the pie plate. Toss two tablespoons coconut pakm sugar and walnut with the berries.  In a large mixing bowl, place remaining coconut palm sugar, almond flour, coconut flour, baking soda and sea salt.  Mix dry ingredients until well-combined.  In a high-speed blender, blend flax seeds, coconut milk and apple cider vinegar until smooth and uniform (alternative: grind flax seeds in a coffee grinder and whisk with coconut milk and vinegar, or combine in a regular-strength blender).  Pour coconut milk mixture into dry ingredients.  Mix until incorporated into a thick batter.  Divide batter into fourths and drop each portion of batter atop the cranberry mixture, using wet hands or a spatula to smooth the topping over the cranberries into a mostly even layer. 
Bake for 30-35 minutes, until golden brown.  Allow to cool.  Either eat at room temperature or place pie in the fridge overnight. This will improve the structural integrity of the pie.
General Disclosures
&
Disclaimers