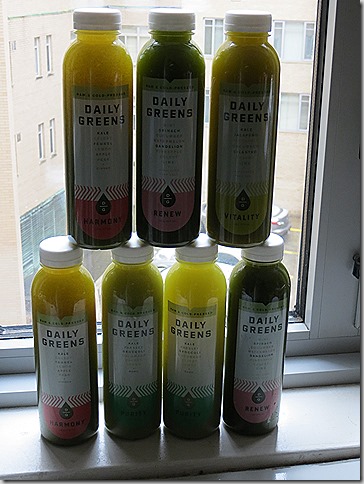 A couple of weeks ago, the folks at Daily Greens contacted me to see if I would be interested in trying out a few of their cold-pressed green juices.  Based in Austin, Daily Greens launched nation-wide delivery this month.  You may have seen the hashtag #kalemail on social media.  Now, you all know I love my green juice – as someone who has had issues with digestion and nutrient absorption, it is no surprise that green juices, which are essentially concentrated fountains of micronutrients, have made a huge difference.  I oved reading about Daily Greens founder Shauna Martin, a breast cancer survivor who made it her mission to make delicious green juice, finding inspiration in the sweet, spicy, salty flavors of Austin BBQ.  I also really love that a portion of Daily Greens' sales are donated to organizations that assist young women battling breast cancer.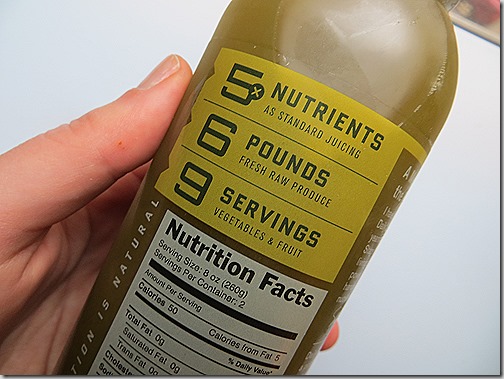 So of course I said yes, and a few days later, this box was waiting for me at my apartment.  Ironically, the box arrived about the same time I was arriving back from a business trip in Chicago, where I had gotten stuck an extra night due to a combination of weather and logistics.  My day had gone something like this – work a full day, go to airport, have 9pm flight get cancelled, go back to hotel, get 3.5 hours of sleep, go back to airport, get on 7am flight (because the 6am flight was cancelled, of course), go home, get on a call and almost immediately turn around for another a full day of meetings in Washington DC.  While I work long hours, I am no road warrior when it comes to business travel, so by the time I got home after my abbreviated night, I was feeling pretty depleted.  Just as my call was wrapping up, my box of Daily Greens was in my hands.  All seven juices were packed in a coldpack that were still quite cold by the time I opened it: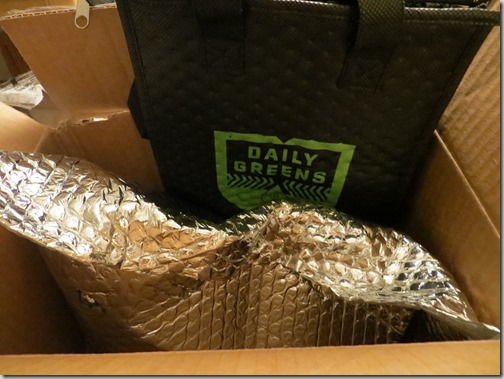 As I was opening the box, the magic of #kalemail really hit home.  I was home 12 hours later than anticipated, had no fresh produce at home (my husband had been travelling too), and was completely sleep-deprived, not to mention on my way to another day of work.  #kalemail was pretty awesome.  As much as I pride myself on making my own green juice and smoothies, receiving #kalemail during one of my busiest work weeks was a reminder that sometimes, it is really nice to get some extra help in maintaining healthy habits.  I immediately tore into Harmony,  mainly because the combination of kale/celery/fennel/lemon/apple/pear/ginger sounded pretty fantastic.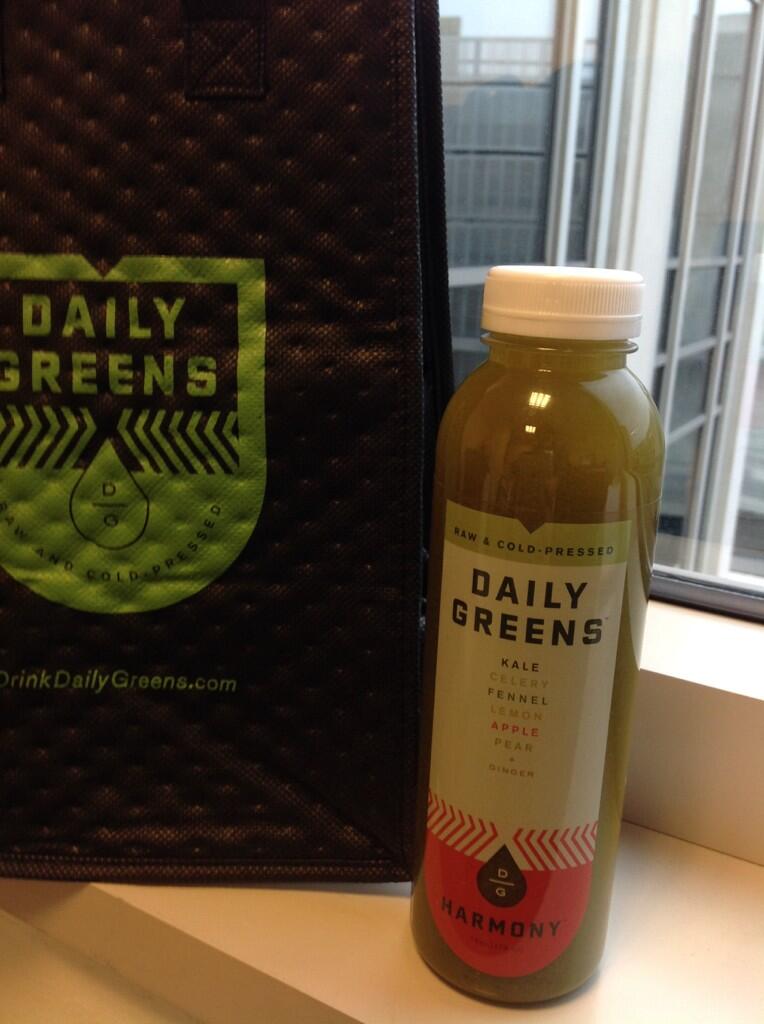 I had one Harmony as part of my early lunch (I had some leftover frozen quinoa and veggies from prior to travelling)  and packed the Harmony in this nifty little insulated bag to take with me to combine with some nuts as an afternoon snack.  I could also have packed Vitality, which is a kale/jalapeno/pineapple/cucumner/cilantro/celery/lime combination, with the added dimension of and himalayan pink salt, but I saved that for the next day.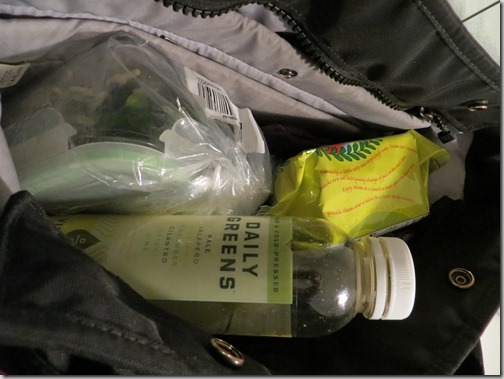 The Vitality flavor combination was unusual, but not too spicy – more a warm, sweet, salty combination that was very crave-worthy and went well with the packed lunch I managed to get together for the next day.  My Daily Greens package included two Harmonies and one Vitality, as well as two Renews and two Purity juices, all of which I drank over the course of just under a week, combining most juices with either a small meal or a snack.   While I do not ever do juice cleanses I am a fan of adding green juice to meals, particularly breakfast or lunch (or, when lunch is delayed, a late-morning snack).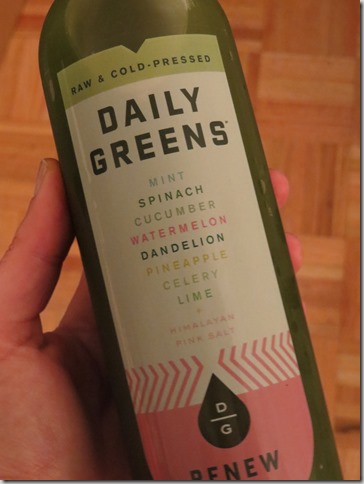 Vitality and Renew probably tied as the most complex flavor profiles of the Daily Greens juices I tried – Renew contains of combination of pressed juices of mint/spinach/cucumber/watermelon/dandelion/pineapple/celery/lime, along with a touch of himalayan pink salt.  I did not taste the bitterness of the dandelion at all, but instead just a very smooth, slightly watermelony lemonade. I loved all the Daily Greens flavors, but what really sold me on their accessibility is that even my husband, who hates all green juices (and he's tried almost every single one I have bought or made over the years), actually found Renew inoffensive.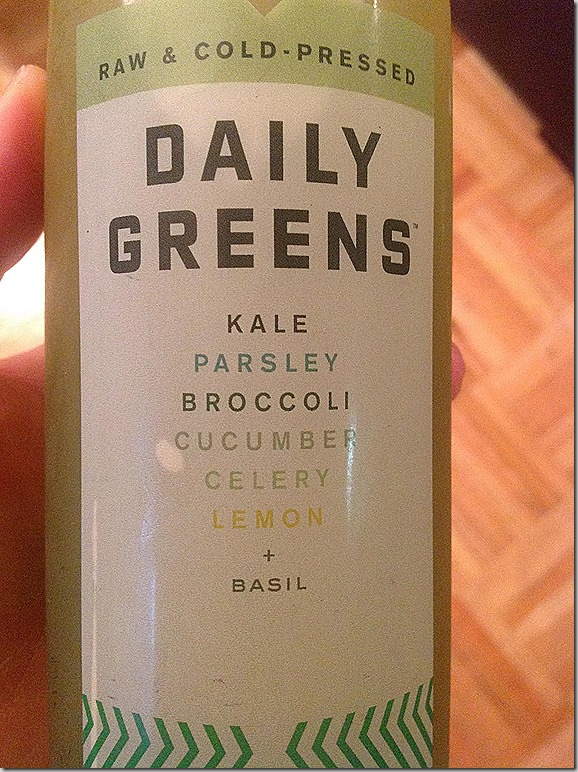 It was no surprise to me that my absolute favorite was the no-fruit Purity – mainly because it contained juices that I usually combine in my own concoctions – I always seem to have extra broccoli stalks, kale stems and parsley stems, so along with lemon and celery, these flavors figure prominently in juices I make at home. 
I loved all the juices I tried. I also loved the point of view of the company – not just the juices themselves, or the focus on supporting organizations working against breast cancer, but also the company's approach to environmental issues and balancing that with the importance of organic produce.  Environmental impact is a major concern and priority for Daily Greens. For that reason, ingredients are seasonally sourced by organic farmers. In other words, if organic pineapples are not available locally, they will go with a non-organic option rather than shipping organic pineapples from across the world. Daily Greens is also working on ensuring that at least the "dirty dozen" are organic, as a number of fruits and veggies are not negatively impacted by pesticides. This has not gone into effect yet, but should in the coming months.
I know this is a time of  year where people start contemplating resolutions and habits – so if you want to add some Daily Greens green juice to your meals and snacks, you can use the code citylife, which expires 1/31/2014, to get  15% off you order.  Getting a #kalemail order really made a crazy week a lot easier on me, and I can see how it would help any busy person. 
And finally – a quick  addendum for my gluten-free readers – Daily Greens is currently in a shared facility that is not a certified gluten free kitchen. However, due to their rapid growth, they are working on opening their own kitchen that will be completely gluten free in early 2014. In the meantime, Daily Greens juices are made on their own production line that is completely gluten free and is not shared with any other vendors. 
General Disclosures
&
Disclaimers