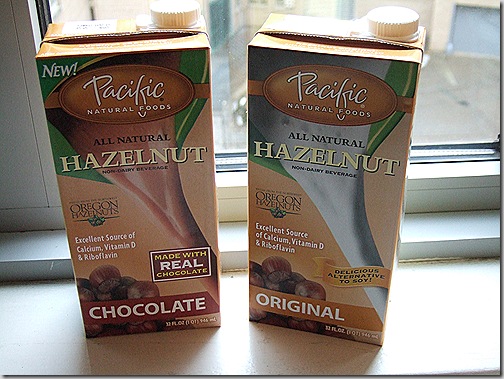 Hazelnuts were a big part of my life growing up – likely because they seem to be a popular nut in Swiss chocolate.  Nutella is, of course, also part of these memories, but not as much as chocolate tablets studded with hazelnuts or tiny hazelnut vanilla cookies.  This is all to say that, when Pacific Natural Foods offered me an opportunity to try some of their gluten-free vegan products, I studied the handy allergen-friendly product guide and selected a handful of soups and unsweetened non-dairy milks, but then asked about the hazelnut-based beverages as well. Unlike most sweetened non-dairy milks, the hazelnut milks are mainly sweetened with brown rice sweetener (the chocolate flavor also contains some evaporated cane juice) as opposed to all cane juice, so I thought I would try them (long-time readers know I keep my consumption of refined and unrefined sweeteners low and rely on fruit and stevia for daily sweetening).  
The use of brown rice sweetener really works as the aroma of hazelnut is the main flavor in both these beverages and, in the case of the chocolate version, the hazelnut is balanced yet not overtaken by the chocolate.  The original flavor is mellow and the hazelnut shines through.The chocolate flavor does also contain evaporated cane juice, listed lower on the ingredient label than the brown rice sweetener. Unlike other sweetened non-dairy chocolate beverages I have had, this one does not taste like liquid sugar, though of course, it being sweetened means it is more of a treat than an everyday staple for me.  It tastes like a subtle liquid Nutella, without the tooth aching sugary feeling Nutella always gave me.  I was initially going to create a recipe for a dessert pudding with these non-dairy hazelnut beverages, but, really, they are so good I just drank them as is.  I still have some ideas for a vegan chocolate hazelnut crème brulee concept though.   
A note on allergens and the gluten-free status of these beverages. They are clearly marked gluten-free, but are not certified.  That said, I find their allergen and cross-contamination statement to be reassuring:
Pacific Natural Foods does not produce products with eggs, sesame, shellfish, or peanuts in our facility.  We do produce products containing dairy, soy, tree nuts, and corn.   Every 24 hours, production shuts down for a total cleaning and sterilization of all equipment.  Complete cleaning and sterilization is also performed between runs of dairy and non-dairy items.
To further reduce potential for cross contamination, a thorough cleaning and flushing of all equipment also takes place after running any product containing allergenic ingredients.  The same cleaning is also performed between runs of non-organic and organic products to maintain the integrity of the organic ingredients.
I wish gluten and wheat were addressed more explicitly in this statement (and apparently, Linda, the Gluten-Free Homemaker, who also reviewed their products, agrees) but my experience with Pacific Natural Foods products has been very positive, even before I received these particular products for review.  Pacific Natural Foods has a comprehensive  FAQ page as well as the  product information guide I mentioned above, which  makes it easy to find out if a product contains allergens, is gluten free, dairy free, vegan, corn-free and so forth.
Specific disclosure: these products were provided to me free of charge. The opinions in this review are solely my own and were not influenced in any way.
General Disclosures
&
Disclaimers