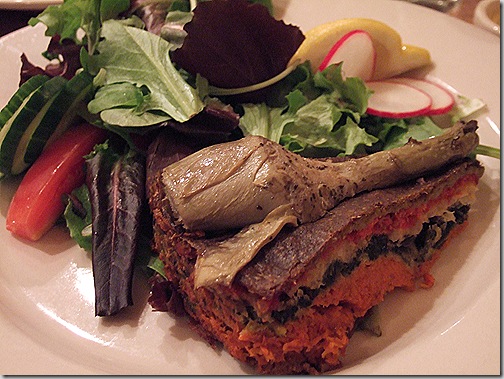 When I lived in New York, going to Le Pain Quotidien was one of my favorite things. The atmosphere, the salads, the tartines, the hummus – you get the idea.  When I first started eating gluten-free, I figured that was a memory that would stay a memory – though by then LPQ had also opened in Washington, DC and was no longer just a New York memory for me. 
Back to the gluten-free aspect, rather than the New York nostalgia aspect – I knew that the LPQ chain offered a gluten-free buckwheat-based six vegetable quiche, but honestly, I had a lot of trepidation about eating there – after all, no matter how well cross-contamination is handled, how could a chain where the concept revolves around wheat-based pain be good news to those of us who cannot tolerate gluten.  Several people I knew, who either had Celiac or gluten sensitivity, assured me they had eaten the quiche (and other gluten-free menu items) with no problems, that the various locations (including the Dupont one) had known how to handle gluten-free dining.  I called two locations several times to understand how they handled gluten-free diners.
Ultimately, I love LPQ and figured my due diligence showed I should try eating there, so I did. And I concluded that yes, one could eat gluten-free there.  There is a risk of gluten cross contamination, but I ended up deciding it was an informed risks always do ok, except for one epic glutening, which was because the soy milk they use may have traces of barley and wheat (lesson learned).  Putting the soy milk disaster aside, LPQ has been consistently great about being inclusive of us with alternative diets – not only is the six vegetable quiche you see above gluten-free, it is also vegan, as are several of the entrée (over the years I have seen various quinoa and lentil dishes) and tartines, including the very delicious black bean hummus tartine.  What pushed me today's post, however, is this: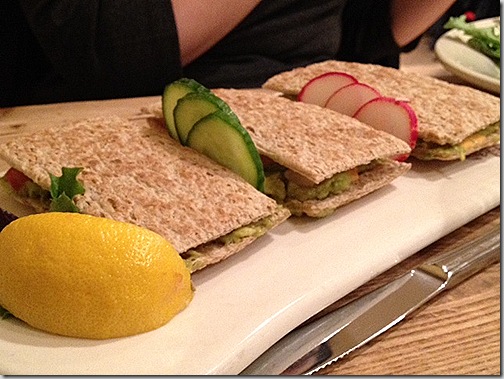 LPQ has now introduced gluten-free tartines, made with a rather delicious gluten-free vegan crackers (which tasted like a denser better version of this gluten-free cracker that I tried when travelling – thank you Gena for taking the tartine picture).  I figured that the combination of this option, as well as the fact I have eaten there with no problems for almost a couple of years now, meant I should write this review.  Of course, you should, as I do, always confirm with the server what your dietary needs are, but I have to say, the waitstaff at LPQ has shown to be consistently very well trained in gluten-free dining needs.
As for what to eat other than the tartines with the gluten-free options or the buckwheat-based quiche – I am also particularly partial to the large salad with a side of hummus (no surprise there, since hummus is a food group) and avocado.  You can see how on a past visit to LPQ with Katie I doused the salad with the hummus. Lately, LPQ has also had a great white bean hummus, which is served with extra veggies on top, as opposed to the plain hummus, which generally is adorned with just olives and/or a sundried tomato.
It is also worth asking about the rotating quinoa, chickpea, and lentil vegan dishes I have seen on the menu at various times, as well as the veggie sides, as those often turn out to be gluten-free.  I had fantastic brussel sprouts with walnuts on Thursday that were the perfect accompaniment to the gluten-free tartines which, as amazing as they are, are not quite as hearty as I needed for dinner.
Disclaimer: When dining at a restaurant, please always confirm its gluten-free items and kitchen handling procedures for gluten-free diners, as well as for any other allergy-related needs.  Menus can change.  Do not assume an item is gluten-free or vegan just because it sounds like it could be – it is always better to ask.
General Disclosures
&
Disclaimers