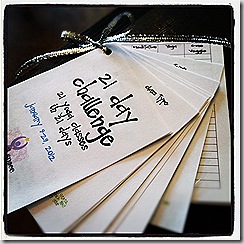 And just like that, today is Day 21 of this challenge and I am done, finishing up, as planned with a yoga 1, a yin class and and a restorative class this weekend.  You know how I kept saying that I was surprised that I was not yet sore, especially since the first time I did such a 21 day challenge last June, I was basically sore from Day 6 on? Well, yesterday feeling sore hit, and hit hard. Sometime within an hour after taking a Yoga 1 class, I felt immensely sore, and the deep holds of yin yoga later that afternoon (yoga class two of the day) were excruciating. I ended up retreating to child's pose instead of doing yin dragon lunges and generally took more restorative versions of many of the poses later in that class. 
I have to admit that finishing up felt a bit anti-climactic, and I think part of the issue is that while I did do all 21 classes of the challenge, it was more a physical and scheduling exercise than anything else.  I definitely derived the benefits of meditation and yoga during the class (and between practices), but when I was not at yoga this month, I was never thinking about yoga (to say it has been busy this month is an understatement).  If I ever do a challenge like this again, I am going to want to pair it with some sort of journal exercise, because I think I could definitely have gotten more out of the challenge had I actually thought about it.  That said, I am so, so, so pleased that I did it, mainly because it was the momentum I needed to keep exercising in January, a month where I traditionally avoid movement in favor of sleep.  I knew the only way to make the challenge was to focus on 7am classes, and in three weeks, I took 12 7am classes which, considering how new my morning movement routine still feels to me, makes me really happy.
As for yoga this coming week – I am taking tomorrow off from all forms of exercise.  Today I walked a couple of miles, which I really felt (see, yesterday, immensely sore) so I definitely enjoyed tonight's restorative yoga class. After taking tomorrow off, I plan to go to the gym a couple of times this week before I return to yoga, just for variety's sake.
Photo courtesy of Tranquilspace.  
General Disclosures
&
Disclaimers