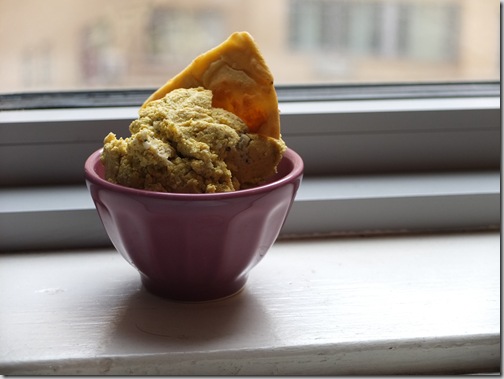 Hi friends! How is it that it is February 20th, 24th, 25th? This has been a month of simple, speedy, but delicious eats.  Lots of variations new and old favorites: Red, White & Blue Smoothie, Arugula and Broccoli Salad, Romaine Kale Salad (it works with chard instead of romaine), Raspberry Swirl Chia Pudding (just as good with blueberries as with raspberries), many hummuses (hummusi?), and a new twist on quinoa that involves mustard and thyme that I am obsessed with. 
On other news, my favorite brand of tahini has been out of stock in several places, so after running out, I actually made hummus with sesame seeds in the Vitamix for a while, but I have since run out of sesame seeds (multiple days of making this Mellow Green Smoothie contributed to the tahini and sesame seed shortage).  I am putting in an order this weekend to try out some new-to-me tahini, but in the meantime I wanted to share this recipe with you.  It is my submission to this month's Go Ahead Honey, It's Gluten Free event, created by the lovely Naomi of Straight Into Bed Cakefree and Dried and hosted this month by the inspiring Heather of Gluten-Free Cat who selected Hot, Spicy, and Heart Shaped as her theme.
I was initially going to make heart-shaped cookies of sorts, but then got distracted by the hemp seeds I had in my fridge that I had not used up and are nearing expiration, and decided to make  hemp cashew dressing with warming spices …. which was, much to my surprise, only eh.  Definitely not blog-worthy.
As I was making hummus batch #5 in 3 weeks (when you are eating it with a spoon as a meal component, you go through batches fast), it occurred to me that seeing as Heather and I both love hemp seeds in our hummus, I should make a spicy and hot variation to submit to the event.  I was intent on making a large batch, but only had two cups of chickpeas (I cook all legumes in my rice cooker and freeze in two cup portions), so added two cups of cooked black-eyed peas.  I have not been able to find packaged black-eyed peas at my local stores and avoid bulk bins because of the potential for gluten cross-contamination, so I like this brand.  I actually loved the flavor combination of chickpeas and black-eyed peas, and may try it in future hummus variations.
Spicy Lemon Hemp Hummus (Gluten-Free, Vegan, Soy-Free) – Makes just under 3 cups
This recipe is lemony, warm and spicy, all at once.  Seeing as it contains no garlic or olive oil or tahini, it has a hummus-like texture, but a completely unexpected flavor.  As I mention above, I cook chickpeas from scratch in the rice cooker, but if you would like to use canned chickpeas, Eden is a fantastic brand.  I used these frozen black-eyed peas, but you could also use Eden's canned black-eyed peas or make your own if you have a good source of dried black-eyed peas with no risks of cross-contamination (I don't).  Finally, feel free to use all chickpeas or all black-eyed peas, but be away it may affect the texture of color of this dip. For spices, I think Spicely is a good source as they carry certified gluten-free spices. 
1 cup shelled hemp seeds
1/2 cup raw cashews
2 cups cooked chickpeas (or 1 15oz can, drained, heat before blending for ideal consistency)
2 cups cooked black-eyed peas (or 1 15oz can, drained, heat before blending for ideal consistency)
1/2 to 3/4 cup freshly squeezed lemon juice (this recipe is meant to taste very lemony, but feel free to start with 1/2 cup of lemon juice and adjust to taste)
2 teaspoons salt
1/2 teaspoon cayenne.
1 teaspoon curry powder
Place hemp seeds and cashews in bowl of a food processor and grind until you have a medium-fine meal (if the mixture butters up a bit, that is fine). Add chickpeas, black-eyed peas, lemon juice, salt and spices and process until smooth.
I had the hummus with a socca bread variation – it was initially going to be heart-shaped, but that did not work out, so on the picture you just see a wedge of socca.
I am also submitting this recipe to the following blog events:
General Disclosures
&
Disclaimers