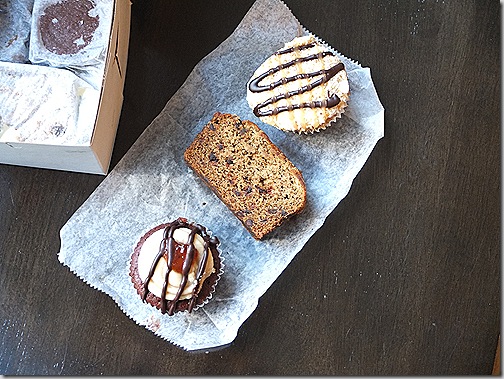 My husband was in Philadelphia this weekend and brought back treats for me from Sweet Freedom, which is one of my very favorite places. I discovered it last summer when I went to the Healthy Living Summit.  Back then I was in a berry mood, so I picked out the Lemon Cupcake with Blueberry Filling and Lemon Frosting (on right), and the  Berry Delight, which is a vanilla cupcake with blueberry filling and strawberry frosting.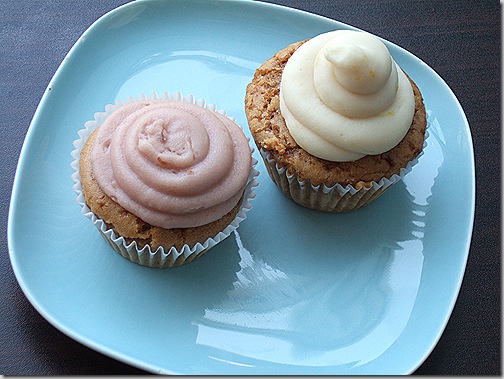 The fruit fillings are all made with fruit, agave and arrowroot, while the frostings use coconut milk, agave and arrowroot.  The cupcakes are generally sorghum-based and made with coconut sugar and agave, though a few use bean flours.  You can see the ingredients on the Sweet Freedom website.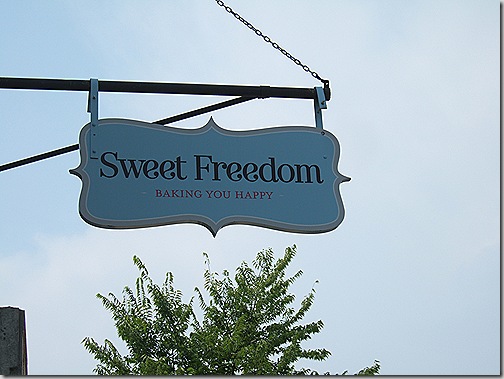 Baking you happy is such a great way to describe this place.  What is fun about Sweet Freedom is that the entire selection is gluten-free and vegan, so for someone like me who avoids gluten, dairy and eggs, it means I have a much wider range of choices at Sweet Freedom in Philadelphia that at my usual DC haunts.  Don't get me wrong – Red Velvet has two wonderful gluten-free vegan cupcakes (one all chocolate, one all vanilla), and I love the gluten-free vegan cupcakes at Sticky Fingers (always a chocolate base, but with rotating flavors of frosting).  That said, there is something to be said about being able to pick out anything at Sweet Freedom: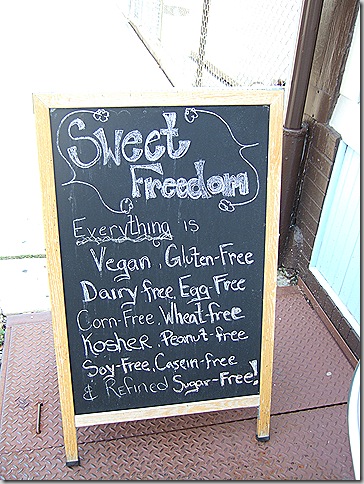 Sweet Freedom is also refined-sugar free, which makes me happy, and generally very allergen-friendly (no soy, peanuts or corn are used in any of their products).  My first visit last August, I went with berries and lemon, while for my second sampling last year (also courtesy of my husband being in Philadelphia), I tried key lime and raspberry cupcakes – those were so badly smushed, sadly, that they were not captured for the blog.  I really enjoy their cupcakes, though they are denser and more cakey than an airy cupcake.
While my first two samplings have been citrus and fruit-based, this time, though, I was in much more of a chocolate, coconut and carrot mood, and requested a selection of goodies for this next week: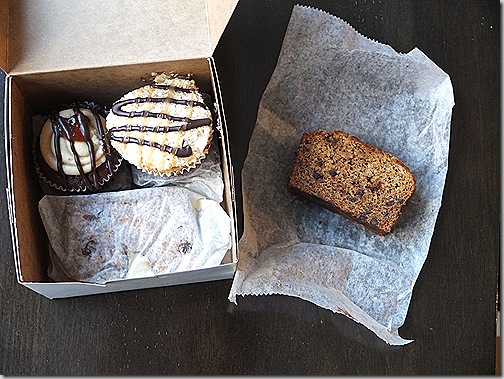 Everything travelled very well too.  In that one box is: banana chocolate chip cake, a brownie and a blondie (both hidden under the cupcakes), a Samoa cupcake, a Neapolitan cupcake and a slice of carrot loaf (with vanilla frosting).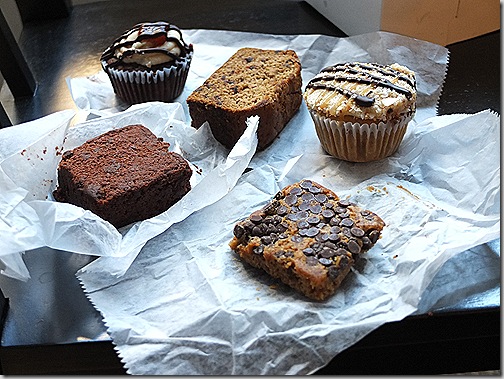 We split the cupcakes tonight and had small pieces of everything else, so having sampled everything, I think my favorite of this selection is the Neapolitan cupcake (chocolate cupcake, strawberry filling, vanilla frosting).  It was truly outstanding – the flavors balanced very well – while the Samoa cupcake actually tasted very Samoa like, and made for a great alternative to the Neapolitan.  I liked both the banana cake and the carrot slice (unpictured as it did get smushed), and preferred to blondie over the brownie, mainly because the brownie has some of the starchiness I associate with gluten-free baked goods, while the blondie did not.
I wish Sweet Freedom would open in DC, but in the meantime, I am lucky to have had a chance to sample their baked goods three times in under a year!
General Disclosures
&
Disclaimers