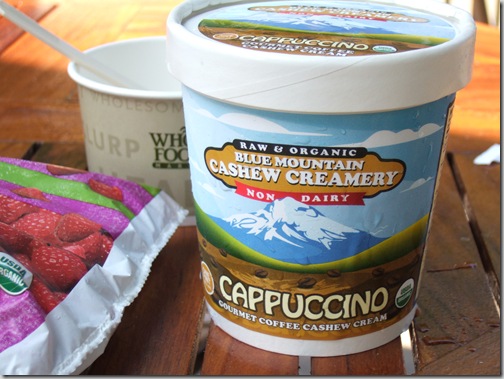 Last weekend, after yoga on the mall, my friend and I walked back to the Dupont/Logan Circle area, and we both had the worst craving for something frozen – I mean, witness how we had spent a couple of hours: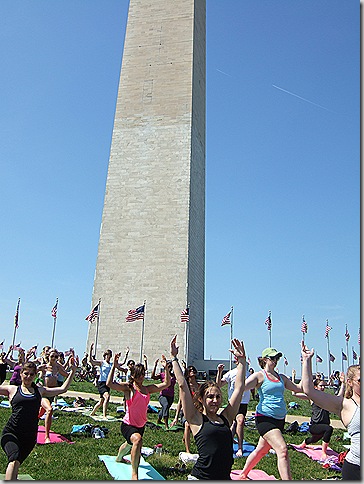 You cannot see the 90 degree temperature, but you can see how blue that sky is – i.e. no clouds, at all.  My yoga mat was so warm it was starting to get sticky in a strange-is-it-melting kind of way.  This would give anyone most people (there is always an exception I suppose) a craving for something icy.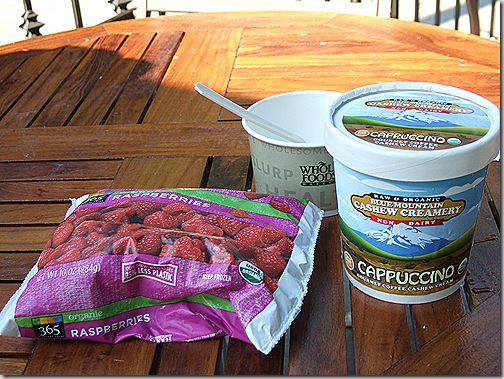 My friend was debating between gelato and tangy frozen yogurt, whereas I just had one thing in mind Blue Mountain Cashew Creamery Cappucino Ice Cream.  I generally make my own ice cream (black mission fig, spicy chocolate, strawberry, or pumpkin are the recipes I have shared) to keep the sugar as low as possible, but I love the vast selection of vegan ice creams out there, many of which are gluten-free and several have lower sugar options.  When I stumbled upon Blue Mountain Cashew Creamery last year, I was in love, mainly because the ingredients are exactly the same as I would use for making ice cream myself (i.e. they skip the stabilizers and so forth), and it was excellent. I stumbled on it over Memorial Day Weekend last year – I left the office and stepping into the oven-like heat made me instantly remember summers and my mom and my grandmother eating coffee ice cream (a favorite of theirs) which I found too bitter at the time, much preferring hazelnut and chocolate. Food nostalgia is a funny thing, isn't it?  That was the day I came upon Blue Mountain and when I saw Cappucino, I was thrilled.  I also wanted raspberry ice cream to go with it (I have no idea why) but settled for frozen raspberries for expediency's sake.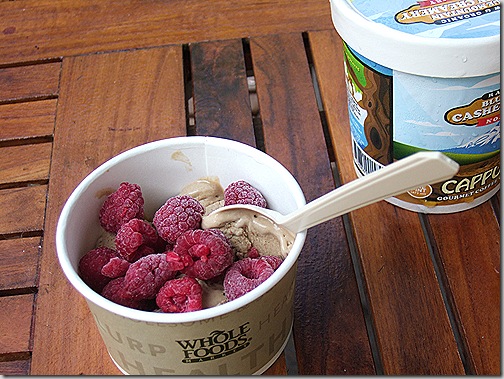 The upshot of this is that I told my friend this whole long story about how this raw coffee ice cream is wonderful and how I last had it a year ago and how I remember not liking coffee ice cream as a child, but now I enjoy it.  Basically, I was rambling, but she was kind and figured my brain had melted along with my yoga mat, though she's known me for almost a dozen years, so she must know I ramble any time of year. We get to Whole Foods and guess what? That location no longer carries Blue Mountain Cashew Creamery.
Standing in the frozen foods aisle, I resolved that I needed to share this ice cream brand with you – it competes with Luna and Larry's Coconut Bliss for my favorite packaged ice cream (though I also like certain So Delicious flavors).  I remember Blue Mountain Cashew Creamery being a little less sweet and a little more dense then either Coconut Bliss or So Delicious, and I did like that the ingredient list would mirror a homemade cashew ice cream.  If you like Coconut Bliss Mocha Maca Crunch, you would probably like Cashew Creamery Cappucino, particularly if you added some unsweetened cacao nibs.  
I would have picked up Coconut Bliss Mocha Maca Crunch but that is also no longer carried at my local Whole Foods, and none of the So Delicious flavors were calling my name. Incidentally, while Cashew Creamery and Coconut Bliss are all agave based,  So Delicious uses a variety of sweeteners in their ice creams – some are entirely low-glycemic, while some have small amounts of cane juice, so be sure to read the labels if that is something you are focused on.  Having found nothing that drew me in in the ice cream aisle last weekend, I was about to go home and make myself some sort of cacao nib ice cream, when I spotted this: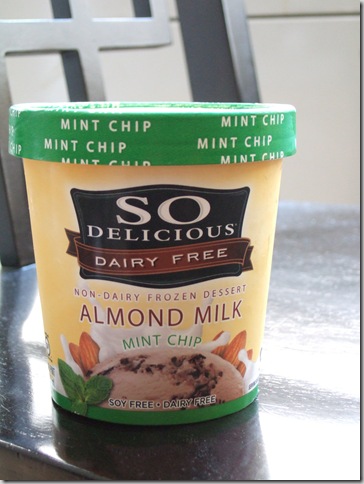 I had been wondering lately if I could make an almond milk ice cream recipe in my ice cream maker, so this piqued my interest.  Mint Chip was the only certified gluten-free flavor available – the texture is about as close to gelato as I have seen for vegan ice cream, so I am definitely interested in more flavors, as I used to love gelato.  
I hope you are having a lovely weekend where ever you are, even if no holiday is involved. And if ice cream is involved, no matter your preferences, I am sure you will find something wonderful.  Or, you can always make your own.
General Disclosures
&
Disclaimers