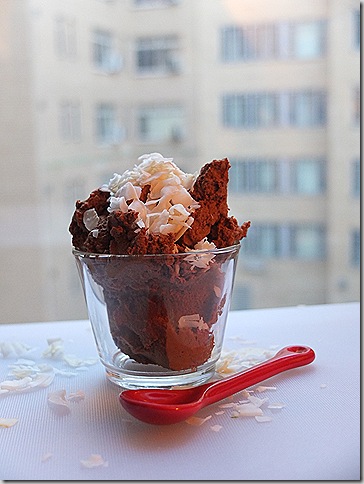 Happy day after July 4 to my U.S. readers and happy Thursday to everyone else.  Washington, DC is still crushed under the heat wave that will not let up, so of course you would assume the picture above is chocolate ice cream. It is not – though here are recipes for black mission fig, spicy chocolate, strawberry, or pumpkin ice creams to help make up for the disappointment. 
Instead, today I am sharing my most successful attempt at a new version of a dessert hummus – a concept that has been floating around the blog world for a while. My favorite dessert hummus (hummusi?) recipes are this chocolate bean butter from Ricki's blog and Gena's Cinnamon Spiced Adzuki Bean Dip.  I know I reference both blogs often, but I am convinced that the way to always eat well is to find a couple of food bloggers who enjoy similar flavor profiles. Ricki and Gena's blogs are exactly that for me. 
A couple of weeks ago,as I was eyeing a large batch of cooked white beans in the fridge and noticing my coconut flour was closing in on its best-by date, I wondered how the two in texture could work together, particularly when paired with some Sunbutter.  The result exceeded my expectations, which is why I must share it with you and entreat you to make it soon!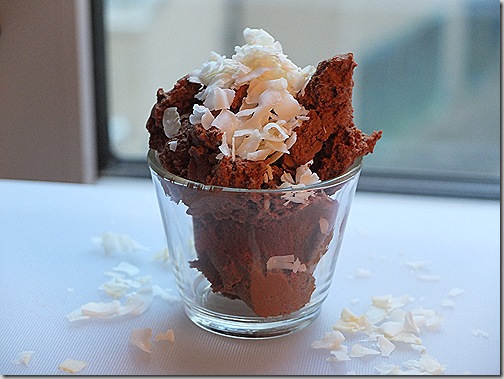 Coconut Chocolate Frosting Dip (gluten-free, vegan, soy-free, nut-free)
Makes about 1.5 cups
A good source for certified gluten-free dried white cannellini beans is nuts.com, or, if you prefer canned white beans, Eden is a good option.  You can substitute any smooth nut butter for the Sunbutter, though it will likely slightly change texture and flavor of the dip. While the recipe calls for heating the beans, you can skip this step if you are low on time. The dip might not be quite as smooth and frosting-like but will be just as delicious.  The key is to the frosting-like texture is to process the dip until very smooth and to use the coconut flour, which absorbs any extra moisture and gives the dip its thick dense texture. 
2 cups cooked white beans (cannellini or navy beans)
3 tablespoons unsweetened, unsalted roasted sunflower seed butter (I used this Sunbutter – if using another brand, be aware you may need to adjust seasoning as many brands are salted or sweetened or both)
1 tablespoon vanilla extract
1/4 teaspoon vanilla-flavored stevia (if possible, do try to use NuNaturals vanilla stevia, as it really is heads and shoulders in flavor. if not, I recommend plain stevia with an additional 1/8 teaspoon vanilla extract)
1/4 cup raw cacao
pinch of salt
1/4 cup coconut flour (I used the one from nuts.com – if coconut flour is not available, substitute about 1/3 cup shredded coconut, but be aware the dip will not be as smooth)
Heat the white beans gently in a pot of water on the stove at medium heat for about 5-10 minutes. The goal is to soften them a bit. Allow to cool to room temperature.   Process beans and all other ingredients except coconut flour in a food processor until very smooth, stopping to scrape down the sides of the food processor bowl.  I found it took about 6-8 minutes of total processing time to get the right texture, so do not get discouraged.  Add coconut flour and process briefly, until the coconut flour is incorporated.  Top with coconut flakes for added prettiness.  Eat with apple slices, or stuffed into a Rudi's plain gluten free vegan tortillas, or with a spoon. 
I am submitting this recipe to the following blog events:
General Disclosures
&
Disclaimers