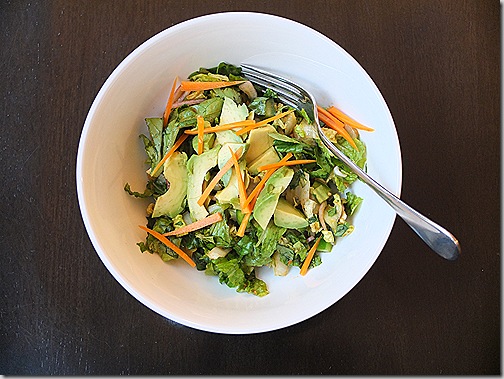 The other night I came home to hear my husband rave about the salad dressing he had made, inspired by this recipe.  He said it made a wonderful marinade for the steak he made, but that he had also saved half to dress his salad.  Once I heard it involved lime juice and no fish sauce, I immediately wanted to try this dressing, as it sounds perfect for summer weather.
So we made the dressing again the following night and used it with a combination of romaine, basil, shallot and cilantro to make a fragrant salad with the texture of a chopped salad. He had his salad with some leftover steak, while I had mine with avocado, but I bet it would go well with tofu as well (and you could double the dressing and use some of it to marinate the tofu before grilling it). This dressing is tangy and a tiny bit sweet and very refreshing. A complete win-win and especially suited for summer, which is why I am submitting this recipe to Lisa of Lisa's Kitchen for No Croutons Required, which Lisa hosts with Jac of Tinned Tomatoes.
The theme is month is salads suited for summer. I am also submitting this recipe to Slightly Indulgent Tuesday, hosted by Amy of Simply Sugar and Gluten-Free and Gluten-Free Wednesdays hosted by Linda the Gluten-Free Homemaker.
Thai Chopped Salad (gluten-free, vegan) – Inspired by Ellie Krieger
Serves 2-4, depending on whether serving the salad as a side or main dish.
1/4 cup freshly squeezed lime juice (about 2 limes' worth)
1 teaspoon finely minced fresh ginger
1.5 teaspoon finely minced garlic (about 1 large clove)
2 tablespoons gluten-free tamari
1 1/2 tablespoons grapeseed oil (substitute any neutral-tasting oil of your choice)
3/4 teaspoon coconut palm sugar
2 teaspoon Thai Red Curry Paste (I like Thai Kitchen's curry paste as it is both gluten-free and vegan, but you can make your own – you can substitute miso for shrimp paste)
1/4 cup chopped shallot
1 cup chopped green pepper
1/2 cup basil, cut into ribbons
1/2 cup cilantro, finely chopped
6 cups romaine lettuce, torn into bite-sized pieces
1-2 avocados, sliced, for topping
Combine lime juice through curry paste into a small bowl.  Whisk until sugar and red curry paste have dissolved.  Combine shallot through romaine in a large bowl.  Add dressing and toss gently until combined.  Portion into bowls for serving, and top with avocado slices.
General Disclosures
&
Disclaimers