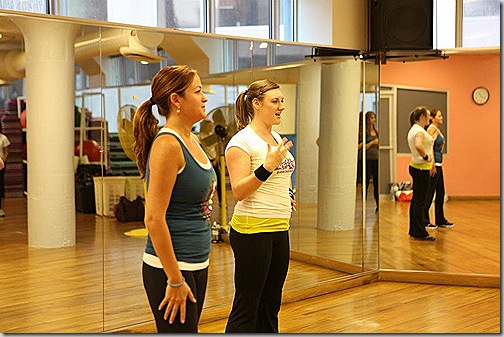 Lauren has been a teacher with DanceTrance DC ever since the location launched back in July.  She is super-high energy as well as one of the reasons DanceTrance DC feels like such a community in addition to providing a great workout.  That's her, above, on the right, with Maria, one of the other DanceTrance DC teachers.  By day, Lauren is the Director of Alumni Relations at Columbus School of Law at Catholic University of America. She has worked for law schools almost her entire career and has a Masters in Higher Education Administration. A couple of nights a week, Lauren teaches at DTDC, and very often also teaches the Saturday morning class which starts with a half hour of Breakdown followed by a regular class.  Lauren has been dancing with DT for two and a half years, in Birmingham, AL and connected with DanceTrance DC shortly after moving to DC area earlier this year, just as DanceTrance DC was starting up.  And now, Lauren in her own words:
On discovering DT:
I've always been a dancer, and after college I just didn't feel comfortable stripping down to a leotard and tights and joining a stiff ballet class. I found DT on the web and tried it out, but it just didn't seem right for me. The women I encountered were super confident and loved to shake their stuff – that just wasn't me at that time. So I settled for teaching ballet (no leo and tights required), and it wasn't until 2 years later I came back to DT. I saw a group of DT ladies perform at a local dance festival, and I could just tell they were having a blast.
On loving DT on the second try:
I gave DT another try, and I was hooked. I guess 2 years out of college was just the right amount of time to gain self confidence I needed, and learn not take myself so seriously. Who cares if I didn't look as awesome as the instructors or didn't shake it as much as the girls in the front row? I loved to dance and it was the perfect outlet for me to do that as an adult without feeling self-conscious or feeling the pressure of a serious dance studio.
On how DT is accessible for those of us without dance backgrounds:
As I mentioned before, I have been a dancer my whole life- leading my college dance team and teaching ballet post-graduation. I've taught many forms of dance, and I have never experienced a program that is equally as easy to learn as it is COOL as Dance Trance. In Dance Trance, we dance to music that everybody knows, and all types of music at that. We also do all forms of dance – hip hop, ballet, jazz, broadway – so immediately we're appealing to a large range of people. If you like to dance- we have something for you! When I was teaching dance team and ballet, it was always so hard for me to figure out how to simplify and explain the steps to where they made sense. I just wanted the dancers to watch me do the steps, then have them mimic the steps! That never worked in those settings, but it does in Dance Trance. While the steps may be fast at times, once they're broken down they totally make sense and are easy to pick up. Plus our dances are designed in a way that steps repeat within the song, so if you miss it the first go around – you have 2 or 3 more times to get it right later in the song! Our Breakdown class is held each Thursday where we teach the new routine for the week. It's the perfect forum for going through a dance step by step, and ask as many questions as you want. It's a super accessible class to even the most beginner of dancers.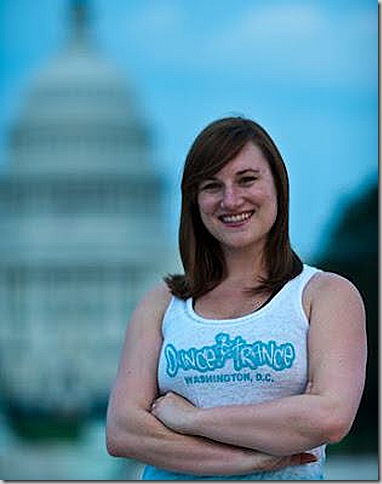 On her career in alumni relations:
I LOVE working in the field of alumni relations. My whole job is connecting people and creating opportunities. I plan a ton of events all around the country, I look for ways to improve services for alumni, and I get to be creative in ways to connect alumni to each other and connect them back to the school and the students. I help people and I help people help other people.  
On DTDC being both great exercise and a personal outlet:
I regularly stretch on my own in my apartment, but other than that DTDC is my only form of exercise. I have a pretty demanding job that requires a lot of hours outside the 9 to 5 range, and DTDC is not only my exercise but also my personal outlet. It's where I can go to forget about all the emails I have to send, all the people I have to please, and the fact that I burn on average 1200 calories an hour is a major plus.  When taking class I usually burn around 650 calories per hour, but when teaching class I typically burn 1200 calories per hour. When I'm teaching there's no room for slacking!
On life:
I've been married for almost 5 years to the smartest and funniest guy I know – Chris McCaghren. He works on the hill while concurrently pursing his doctorate in Higher Education Administration at Vanderbilt. He's a huge supporter of my work and of DTDC, even though he has a personal phobia of dancing. We love spending our weekends on random historical roadtrips (can't wait to see Williamsburg at Christmas) and I am presently trying to convince him that we totally need a cat. I'll keep you updated.
Past Dance Trance DC posts:
Trying Out Dance Trance
(Re)Introducing Dance Trance DC
What is DanceTrance Breakdown?
Photos courtesy of Dance Trance DC.
Disclosure: In exchange for writing a series of blog posts on DTDC, DTDC has offered me a two-month complimentary DTDC membership.  I have received no additional compensation for these posts.  My opinion of DTDC is uninfluenced by receiving the complimentary membership, especially as I have previously paid for a DTDC membership and will resume doing so after my complimentary membership expires.
General Disclosures
&
Disclaimers