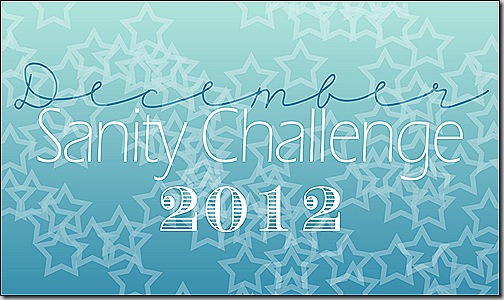 And, just like that, it is December 1.  This year went by at warp speed for me – I had a busy first three months of the year at my old job, then switched jobs, travelled quite a bit, and just generally felt like there was no pause button this year.  No pause. I tried a bit of pausing this past month in November – I went on vacation, and then there was Thanksgiving, but I have to admit, as I sit here on December 1, I am still trying to figure out why last December feels both so long ago and yet like it was last week.
Time for some self-care. And fortunately, there is the the December Sanity Challenge is the brainchild of the the wonderful Cheryl of Gluten-Free Goodness.  Of everyone in my (in-person or virtual) life, she is the strongest voice in reminding me and everyone else to take care of ourselves. I so appreciate Cheryl for that reason, as well as many others – her humor, her recipes and her kindness.  Cheryl was the force behind last year's December Sanity Challenge as well as last year's and this year's Self-Care Retreats.
Before we get into my goals for December, first, the scoop as described by Cheryl:
So here's the scoop on the December Sanity Challenge.  It can be on whatever YOU need to work on to stay sane during the holiday season, or whatever you want to make sure to remember so that you are living life to the fullest:
Balancing commitments to others with commitments to yourself
Getting in physical activity
Creating a happy balance around food
Getting enough sleep!
Making wise financial choices
Focusing more on living beings than material "stuff"
Whatever else speaks to you along these lines
The challenge–blog on on what you plan to do to make your holidays sane, happy and healthy.  (if you don't have a blog and want to play, email  Cheryl through her blog and she will post your goals!) Make it specific!  Not just "I'll get more sleep", but "I'll get at least 7 hours of sleep, 5 days a week".  Not just "I won't go crazy making desserts", but "I'll make a maximum of XX desserts, and space them out over XX time".  You know what you need to do to keep this doable, and writing it down will help you get there!
As a little added incentive, for each post on your intentions and your progress you link back here or one of the other co-hosts, you'll be entered to receive a $50 gift certificate to Nuts.com (they are not sponsoring, Cheryl picked them because they have healthy gluten-free, vegan, sugar-free, etc. options). The delicious Ms. Carrie Forbes of Carrie of Ginger Lemon Girl has also generously donated 2 signed cookbooks for "The Everything Gluten-Free Slow Cooker Cookbook". What could be more sanity promoting than using a slow cooker?
I have wonderful co-hosts:
We also have a FB group–if you'd like to join, you're more than welcome. It's a space to support and be supported, and it's the same one we used during the last Self-Care Retreat.
And now, here are my goals for this month:
1. Sleep – 7, preferably 8 hours of sleep a night. I am always shaving off sleep, which is not a good idea.  I keep putting off trying to sleep that much and often get by on 6-ish, feeling proud of myself when I can get 7, but never really striving for 8.  I had an aha moment this week reading something that Elana wrote: "It took tons of patience and dedication (the dedication to slow down and become competitive about things like sleeping, rather than my more preferred modes of accomplishment).  I had to fool my monkey mind."  I know I can set and meet goals – why not try to apply that skill to getting enough sleep.
2. Movement – while my movement routine is pretty firmly ingrained (I know, I have come a long way since my Tuesday night promise and have since transformed my mornings and movement routine generally) I do want to keep movement one of my goals. It was my main goal last year, and I found the movement I did last December very grounding amidst what was really quite an ugly month.  The goal this month is to keep my usual routine of working out 6 times a week, a minimum of 30 minutes a time, with a combination of vinyasa/flow yoga classes, the elliptical, lots of walking and DanceTrance.  I do sometimes stick to  a 20 minute workout on the days after a 90 minute or 2 hour DTDC class, but otherwise 30 minutes is my usual goal.  The 6 times a week goal is not set in stone – in other words, if I continue to feel like I do right now (achy right foot, swollen scratchy throat) I will favor sleep and rest over movement.
3. Yoga – my yoga practice has waxed and waned this year, at least partially because of travel. While I can absolutely get behind hotel gyms, I have yet to be able to get behind hotel room yoga.  This month, the goal is a total of 12 yoga classes, including flow classes, restorative and yin.  In addition to yoga classes, I am going to stretch for at least 3 minutes after cardio workouts, as I have completely lost that part of my movement routine. Some stretches will be yoga stretches, and others just regular stretches.
So to summarize, sleep, move, dance, stretch.
General Disclosures
&
Disclaimers