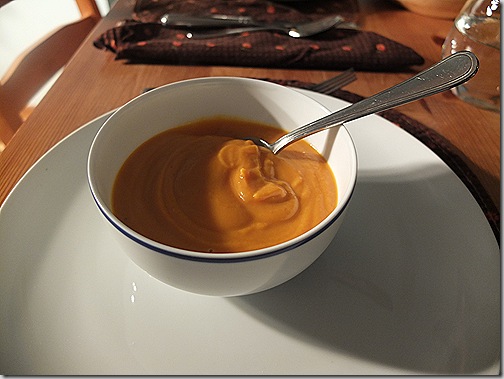 Today was a soup day.  I made two soups. One was the savory butternut squash soup which you see pictured (recipe below).  The other soup is something I learned from my mother – when you have leftover veggies, they always taste better after a spin through the blender.  So this morning, I steamed some kale stalks and a green pepper on its last leg and blended those up with some leftover carrot tahini purée and roasted parsnips and some vegetable broth.  That was Soup #1 which, for an "impromptu purée," was pretty fantastic.  I had it for lunch with brown rice.  Soup #2 was the result of me wanting to make a butternut squash soup that did not have curry and/or apples – I love butternut squash, but wanted a more savory approach.
Gena gave a thumbs up to both soups when I brought the two soups over to share for dinner tonight.  Her bowl is on the left and contains both soups (the "impromptu purée" is the greenish one, on account of the kale).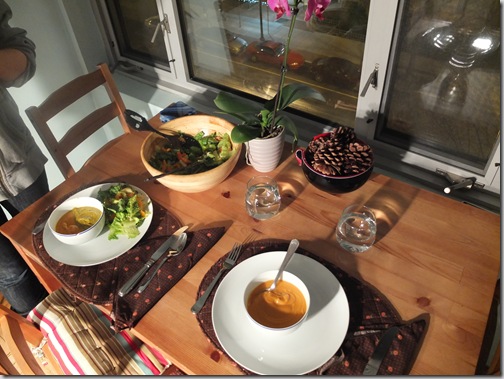 She made a wonderful salad with dijon vinaigrette and hemp seeds to go with the soups: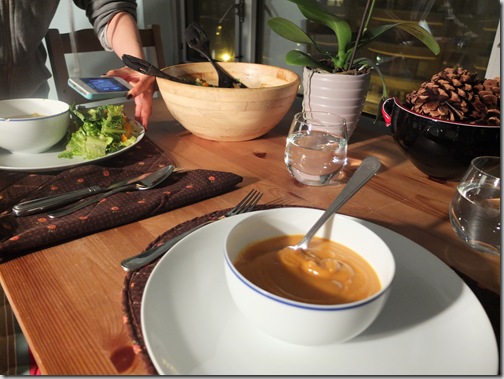 Gena wrote a great post today on how relationships with friends keep her centered through the stress of her post-bacc program. I really admire that because when I was in law school, I was pretty terrible at staying centered or making time for friends. I usually saw my non-law school friends during summer and December breaks, but barely during the semester.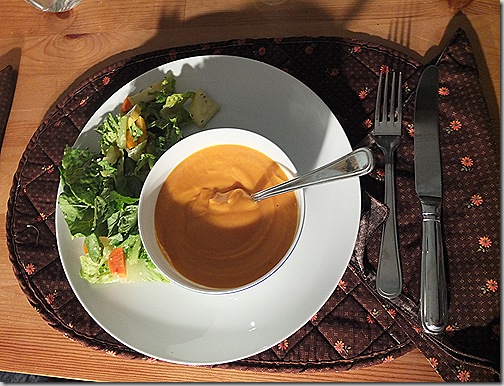 Gena's advice is instructive in any high-pressure situation.  It is important to take a step back and spend some restorative time with friends.  Comforting soup to go with said restorative time can only help.  Gena sent me home with some wonderful wonderful macaroons, which were the perfect ending after our soup and salad dinner.
Savory Butternut Squash Soup with Thyme (gluten-free, vegan, soy-free, nut-free option)
Serves 4 to 6
The key to making this soup savory is the tomato paste.  The almond milk and white beans give this soup a creamy texture, as well as contribute to making it satiating
6 cups cubed butternut squash (about 2 pounds)
1 cup coarsely chopped onion (1 small onion)
1-2 cloves garlic
2 tablespoons extra virgin olive oil
1/2 teaspoon dried thyme
1 teaspoon sea salt
2 1/2 cups vegetable broth
1 cup almond milk (substitute hemp milk for nut-free)
1/3 cup tomato paste (I used this one from Bionaturae, which has no added salt)
2 cups cooked white beans (cannellini or navy beans), or 1 15oz can of white beans, drained
Salt and pepper to taste
Preheat oven to 350 F.  Combine squash, onion and garlic with olive oil, thyme and salt. Spread on a large baking sheet and roast vegetables , stirring occasionally, for 45-50 minutes, until fork-tender.  Remove butternut squash onion mixture from oven, allow to cool briefly before placing in a blender or food processor.  In a blender or food processor, purée the butternut squash onion mixture with the remaining ingredients (broth, almond milk, tomato paste and white beans).  Depending on the size of your blender or food processor, you may need to do this in batches (I did this in two batches with my Vitamix).  Reheat briefly on stovetop in a large pot until piping hot. Season with salt and pepper to taste.  If you have an immersion blender, you can use the following approach: combine the butternut squash onion mixture with the remaining ingredients in a large pot and then use an immersion blender to purée all the ingredients into a thick velvety soup.  Whether you decide to use an upright blender, immersion blender or food processor is really up to you – the goal is a smooth puréed soup.  
I am submitting this soup to Slightly Indulgent Tuesday over at Simply Sugar and Gluten-Free. and also Wellness Weekend over at Diet Dessert and Dogs.
General Disclosures
&
Disclaimers