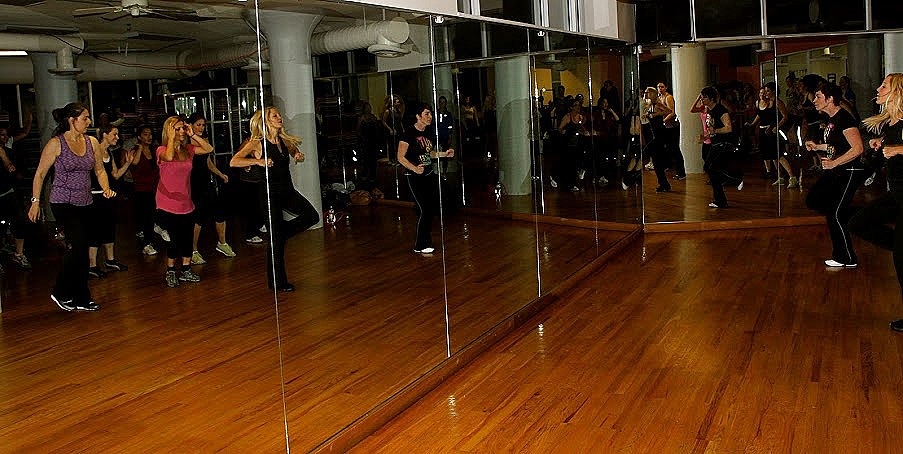 We have not met in person – or perhaps, we have, since I have had the great fortune to meet several readers over the years – but here's the thing: I am Type A (I know, shocking) and detail-oriented.  I actually like these parts of my personality, but over the years I have learned that it is important to find outlets to complement the Type A side. As I have incorporated more movement and exercise in my life, that has been a good outlet, though I find that I need the activity to be all-absorbing to be a true stress relief.  Classes at DanceTrance DC are truly that absorbing – I am so busy focusing on the steps and the music that 90 minutes can easily go by before I start thinking about whatever it was I was thinking about before class.
In contrast, on the treadmill, I often find myself getting pen and paper out (or asking the front desk at the gym for some) to jot notes to myself because something work- or blog-related occurred to me. Even at yoga, where 10+ years of practice has gone a long way towards bringing more zen into my life, I still find myself working out something in my head (ironically, very often, I am figuring out how to pretzel my schedule to get to more yoga classes that week).  If anything, the more I have learned the poses, the more I find myself thinking about something else during class.  I know, I know, it is the opposite of being present, but I just have to be really engaged by what I am doing to truly leave thinking-work behind.  And that is where classes at DanceTrance DC have been so great the last few months.  The DT Breakdown classes focus on the steps closely, which keeps me engaged, while the high-cardio classes move so quickly, one has to stay engaged.  And, a wonderful added de-stressing benefit is the community of DTDC.  The owner, Sarah has done a phenomenal job at not only teaching great classes, but also building a community, with the help of Lauren and Maria,
This is all fantastic year-round, but that much more important during the holiday season . Let's face it:  November and December are stressful. I hear that in every part of my life – work, personal, standing in line at the grocery store, everyone always seems stressed out, Maybe it is just DC but I can feel it around me. I usually seem to find myself in work-related stress this time of year more than the others (mainly because I don't usually travel for the holidays) – one year, I worked most of Thanksgiving Day, several other years I did not take any vacation around the holidays … you get the idea.  The one advantage to being very busy with work is that  I never seem to get caught up in the adorable crafty gift ideas floating around Pinterest or the blogosphere, but I hear from others that can pulverize zen into stress. 
Bottom line, though, if in the next few days you feel like you need to be completely transported elsewhere (I do sometimes) – away from obligations, year-end deadlines, or the lure of just one more Mason jar crafty gift assembly – I recommend stepping away and getting to DanceTrance DC at Balance Gym, near Thomas Circle (see here for locations outside the Washington area).
Trying Out Dance Trance
(Re)Introducing Dance Trance DC
What is DanceTrance Breakdown?
Teacher Profile: Lauren
Teacher Profile: Maria
Photos courtesy of Dance Trance DC.
Disclosure: In exchange for writing a series of blog posts on DTDC, DTDC has offered me a two-month complimentary DTDC membership.  I have received no additional compensation for these posts.  My opinion of DTDC is uninfluenced by receiving the complimentary membership, especially as I have previously paid for a DTDC membership and will resume doing so after my complimentary membership expires.
General Disclosures
&
Disclaimers