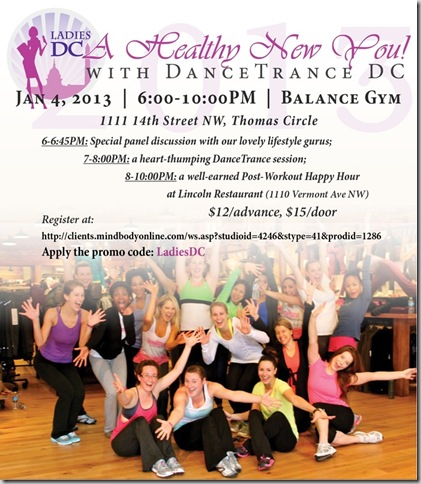 I just got home from a super-fun DanceTrance DC class – there had not been a class since Saturday on account of the holiday, and the energy in the class tonight was great. Walking home from class, I was thinking about how the swirl of New Year's messaging has started – radio, headlines, tv, internet.  I find most New Year's messaging upsetting, as there is so much guilt and shaming intrinsic in the messaging.  That said, there issomething really gratifying about reflecting on the past year and thinking about the year ahead and things to look forward to. This includes health-related goals too, and fortunately DanceTrance DC takes a positive approach. A few days ago, I saw this email from DanceTrance DC in my inbox:
As we look to 2013, we want you to think about the following questions:
What are your 2013 fitness goals? 
Would you like to change your diet in 2013 to maximize your energy, health, and overall well-being?
Would you like to know how to create your own unique fashion and personal style?
Do you have any personal or professional goals that you'd like to accomplish in 2013 but aren't sure how?
If you answered yes to any of these questions, than consider joining us on Friday, January 4th for the "Healthy New YOU" Event with Ladies DC at Balance Gym. A panel of experts will speak on how to most effectively accomplish your goals in 2013. Then we'll have a heart-pumpin Dance Trance class followed by happy hour at Lincoln Restaurant. More information about the event below. The cost of the event is only $12 in advance, $15 at the door. Click here to purchase your ticket now. Use promo code 'Ladies DC'.
I love the idea of dancing into the New Year.  In addition to the above event, there are of  course the regular  DanceTrance DC classes, and this Sunday is the monthly DT Breakdown extravaganza at DTDC.  Called DT Rewind, it is a two-hour class on the last Sunday of every month from 2pm to 4pm.  Sunday is December's DT Rewind class. Like all DTDC classes, it is held at DTDC's home, Balance Gym, near Thomas Circle. DT Rewind is a Breakdown class where the instructor recaps and breaks down all the new routines learned in the previous month.  It is a great introduction if you are new to DTDC, and a good way to catch up if you missed DTBD during the month or just want a refresher. 
Learn more about DT:
Trying Out Dance Trance
(Re)Introducing Dance Trance DC
What is DanceTrance Breakdown?
Teacher Profile: Lauren
Teacher Profile: Maria
Dancing at DTDC: Great Stress Relief
You can see get all the info on DTDC here, connect with DTDC on twitter, or, to see more pictures of the various classes and community events on Facebook, you can even friend DTDC, or like them.
Graphic courtesy of Dance Trance DC.
Disclosure: In exchange for writing a series of blog posts on DTDC, DTDC has offered me a two-month complimentary DTDC membership.  I have received no additional compensation for these posts.  My opinion of DTDC is uninfluenced by receiving the complimentary membership, especially as I have previously paid for a DTDC membership and will resume doing so after my complimentary membership expires.
General Disclosures
&
Disclaimers