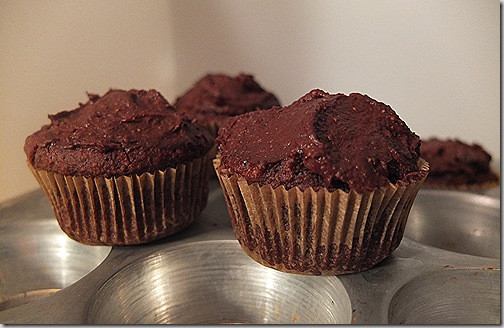 Happy Saturday! I was planning on writing more about New Year's messaging and the various permutations. Of course, not all are inherently problematic, and in fact there is a lot of positive about looking ahead to a year and saying that it will be the best year yet. What gets to me is the guilt and remorse that the post-holiday season seems to take on for many.  Oddly, despite struggling with body image issues from age 7 to 30, I never had specific post-holiday guilt, mainly because I had year-round guilt.  All that said, I have thought about all this so much, that I kind of want to take a break and tell you about cupcakes instead.
And not just any cupcakes – these are chocolate almond flour cupcakes with a fig chocolate coconut milk frosting that is almost ganache-like.  I baked them for Gena as part of her Christmas present – partly because she made me great cupcakes for my birthday, and partly because I felt like baking.  Lillian's vegan and gluten-free brownies and muffins were really inspiring and had me hankering for a couple of hours of baking. 
Almond flour is one of my go-to's in gluten-free baking.  I appreciate its simplicity and the texture it lends to baked goods. I have learned a lot about working with blanched almond flour from Elana's blog as well as her cookbooks, The Gluten-Free Almond Flour Cookbook and Gluten-Free Cupcakes: 50 Irresistible Recipes Made with Almond and Coconut Flour.  While most of Elana's baked goods contain egg, I have found some that do not, and have found I can veganize those that contain just 1 or 2 eggs.  Furthermore,  Gluten-Free Cupcakes has a vegan chocolate cupcake recipe which was worth the price of the book alone to me, and has been a go-to since I bought the book. I do, however, prefer to use raw cacao over unsweetened cacao powder in all my baked goods – it just adds to the general chocolate-y richness in a way unsweetened cacao does not.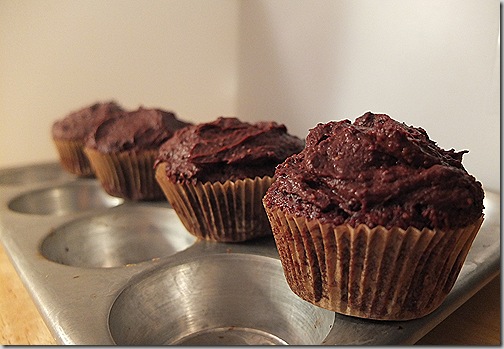 These fudgy cupcakes go beyond being a chocolate cupcake – I added extra flax meal and coconut milk for more of a fudge texture and used carob to supplement the raw cacao and raise the complexity of the overall flavor profile.  Instead of fighting the inherent stickier tendencies of vegan grain-free baking, I made use of them, and was quite pleased with the result.  The final cupcake is moist and fudgy and pairs well with the fruity and satisfying fig chocolate frosting.  I used a method from Forks Over Knives- The Cookbook I had never thought to use in frosting – puréeing dried fruit with raw cacao and other ingredients. While Forks Over Knives- The Cookbook does not use coconut milk in its frosting recipe, I thought it paired beautifully with the figs and chocolate.  I used agave because it plays very nicely with almond flour and maple syrup or coconut nectar would not have worked as well flavor-wise in this recipe.  
I could tell you that these are a "better" cupcake and should not cause guilt in this post-holiday season – they are higher in protein and good fats, on account of the almond flour and coconut milk, and contain the always beneficial flax and chia.  Come to think of it, the majority of the ingredients are fiber-rich, so the end product is likely quite high in fiber too. And depending on your stance on agave, the cupcakes may qualify for any number of the following labels: low-glycemic or too-high-in-fructose or Paleo or anti-Paleo or… or….  Really though, this is all starting to sound like a lot of New Year's messaging hidden in cupcake talk, so here is what I can tell you for sure: these cupcakes are gluten-free (on account of being grain-free), vegan, and very very delicious.  Be sure to use some good cacao, raw or not, and dried Mission Figs.  You will have leftover frosting, which will be fantastic eaten with a spoon.        
Fudgy Cupcakes with Fig Chocolate Frosting (Gluten-free, Vegan)
Makes 9 cupcakes, with about 1/3 cup of frosting leftover
Inspired by Elana's Vegan Chocolate Cupcakes from Gluten-Free Cupcakes: 50 Irresistible Recipes Made with Almond and Coconut Flour and Isa Chandra Moskowitz's Fudgy Chocolate Frosting from Forks Over Knives – The Cookbook: Over 300 Recipes for Plant-Based Eating All Through the Year.
To make flax meal, grind flax seeds in a clean coffee grinder and then measure out 2 tablespoons. Use the same process for making chia meal.  Any remaining chia meal or flax meal can be stirred into a smoothie or hot gluten-free breakfast cereal.  Also, this recipe will yield leftover frosting (which is great on apple or pear slices, or eaten with a spoon) and a little bit of coconut milk, which you can use in a smoothie or to make some Spicy Hot Chocolate.  Another option is to combine the leftover coconut milk with some almond milk to make it richer, and serve the cupcakes with a side of cold almond coconut milk, perhaps sweetened with a bit of vanilla stevia. 
Cupcake ingredients:
1 1/2 cups blanched almond flour (I used this one, but nuts.com also has a great one. Just be sure to use a blanched almond flour and not almond meal)
1/4 cup unsweetened raw cacao
2 tablespoons carob powder
1 tablespoon arrowroot starch
2 tablespoons flax meal
1 tablespoon chia meal
1/4 teaspoon sea salt
1/2 teaspoon baking soda
1/2 cup coconut milk (use canned coconut milk, not coconut milk beverage)
6 tablespoons agave
1 tablespoon apple cider vinegar
1 tablespoon vanilla extract
Frosting ingredients:
3/4 cup boiling water
1/3 cup raw cacao
11/2 cup dried mission figs, stem area removed, cut in half (I used these)
1/4 cup coconut milk
2 tablespoons agave
pinch salt
1/2 teaspoon vanilla extract
Preheat oven to 350F.  Line 9 muffin cups with paper liners. 
In a large bowl, combine the blanched almond flour, raw cacao, carob powder, arrowroot starch, flax meal, chia meal, salt, and baking soda. Mix well.  In a separate bowl, combine
coconut milk, agave, apple cider vinegar, and vanilla extract.  Pour wet ingredients into dry ingredients and stir until thoroughly combined.  Using a 1/4 cup measure, scoop 1/4 cup of the mixture into each muffin cup.
Bake for 25-30 minutes.  The cupcakes are ready when they are dry to the touch on top and when a toothpick inserted into the center has just a has moist crumbs.  Let the cupcakes cool in the pan for about 30-45 minutes.
While the cupcakes are baking, put the boiling water and raw cacao in a blender. Blend on high speed for about 30 seconds, or until the mixture is smooth.  If your blender does not have a vent (and even if it does) avoid letting steam build up.  Add the figs, agave and salt to the blender.  Blend until relatively smooth.  Depending on the size and type of your blender, you may need to stop it and scrape down the sides of the blender with a spatula to make sure all ingredients are incorporated. Then, add vanilla and blend until well-combined. You are looking for a thick ganache-type texture that is mostly smooth, but the seeds in the figs will add some texture.  Allow to chill for about an hour.  Using about a tablespoon of frosting per cupcake, top each cupcake with the chocolate fig frosting. Store in the fridge but allow to come to room temperature prior to serving.
I am submitting this recipe to Wellness Weekend at Diet, Dessert and Dogs, Slightly Indulgent Tuesday at Simply Sugar and Gluten Free, Healthy Vegan Friday at Veggie Nook, and Gluten-Free Wednesday at Gluten-Free Homemaker.
General Disclosures
&
Disclaimers