Hello from snowy Washington, DC.  I hope everyone who is affected by snow is warm and safe.  The weather out there is reminiscent of Chicago, especially now that the wind has picked up.  I was in Chicago just a few weeks ago for a weekend (prior to a work trip there), and right now I am really wishing Karyn's restaurants were nearby. Karyn's has multiple outposts – Raw, Cooked and Karyn's on Green.  On my first day in Chicago, I had a late lunch at Karyn's Cooked, and on my second day went to Karyn's on Green for brunch.  Lunch at Karyn's Cooked was the perfect way to acclimate to the frigid weather that greeted us upon arrival in Chicago. When I am cold, I always want soup, so I started with Karyn's Cooked cream of celery soup: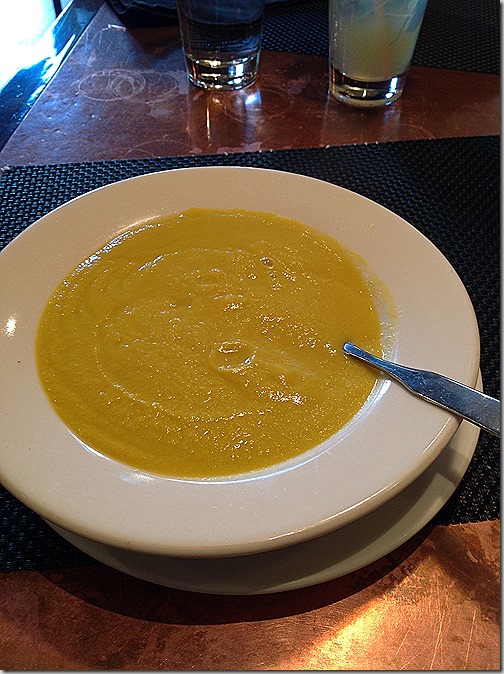 I had not had cream of celery in years, and this was a lovely reintroduction – it is both light and flavorful, and much, much better than any dairy-based version.  Karyn's Cooked is an all-vegan restaurant, so the creaminess in the soup is derived from plant ingredients only.  Evveryone at Karyn's Cooked was very knowledgeable about gluten-free eating and cross-contamination, which I really appreciated.  The menu gives you a sense of how many options are gluten-free.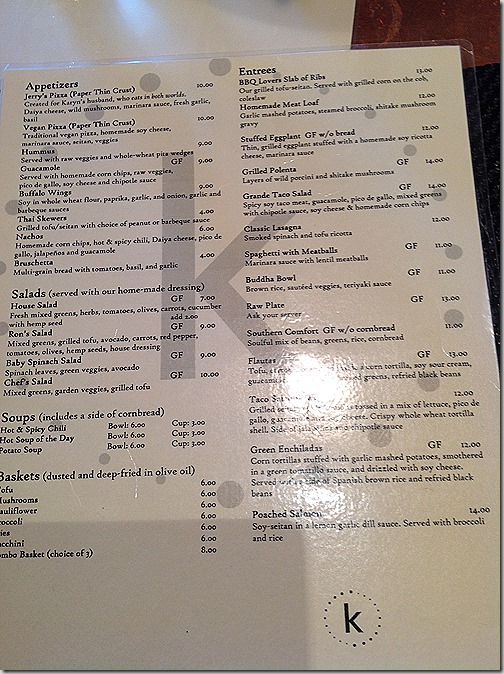 There are also a lot of gluten-free options among the sides: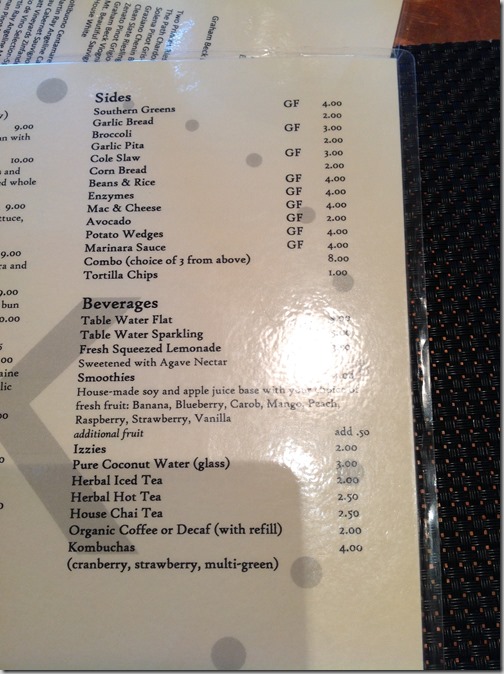 I had read that the house dressing at Karyn's is fantastic, so my husband and I also ordered a Ron's salad, which is topped with grilled tofu, avocado, veggies and hemp seeds.  The dressing, which has ginger and a bit of bite, was lovely, but the grilled tofu was especially delicious.  It had a spice rub, which led my husband and I to discuss how we really needed to try more spice rub techniques on tofu – we used to do more of that when I ate meat, but never transitioned to using spice rubs with tofu.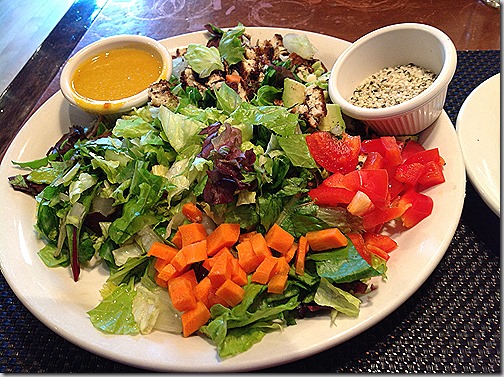 The salad was especially yummy with all the ingredients mixed together: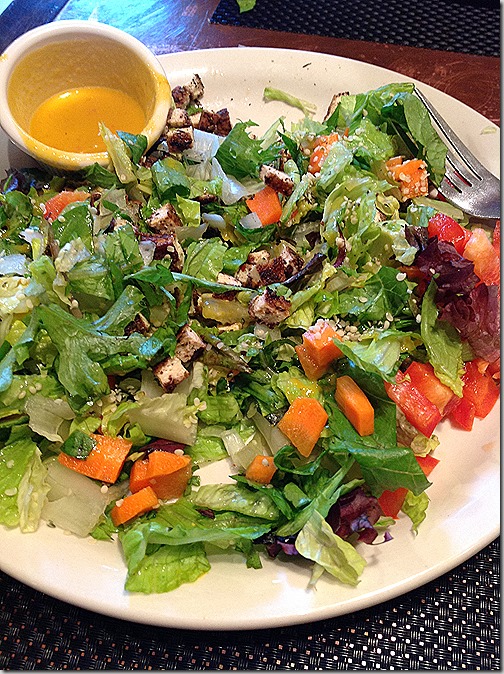 After much indecisiveness, I picked the Green Enchiladas for my main course, and they were fantastic, as were the leftovers I ate the next day for an early breakfast in my hotel room.  The sauce was bright from the tomatillos and chilis without bein overtly spicy.  The brown rice and black beans were well-spiced and the enchiladas themselves were filled with a garlicky mashed potato mixture.  It was the perfect dish after the cold journey from the airport and the walk from the subway: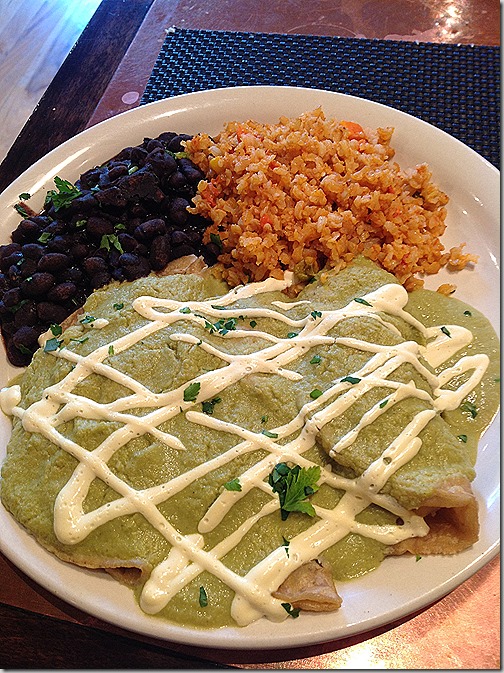 My husband had the Soul Food Plate, which he really enjoyed.  The star was definitely the collards – salty and vinegary and with an amazing depth of flavor, but the beans were a close second with their smoky complex flavor profile:
Finally, when I saw how many dessert options were gluten-free, I could not resist ordering a chocolate cheesecake.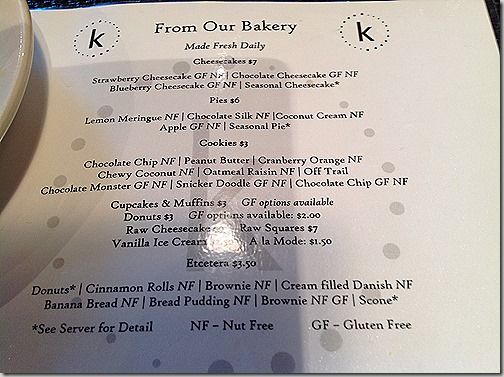 While I have had plenty of delicious raw vegan cheesecake since switching to a gluten-free vegan diet, I had not had baked cheesecake in years.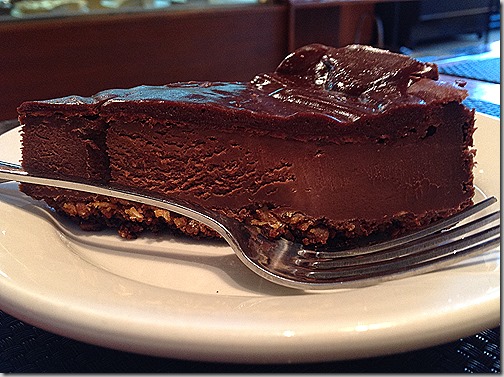 Karyn's baked chocolate cheesecake was absolutely worth the wait.  It had the feel of a dense chocolate torte and, as my husband pointed out, there was no way of knowing it was vegan and gluten-free.  I also took a slice of strawberry cheesecake to go, which I ate on another day of my stay in my hotel room – I almost forgot to take a picture in fact: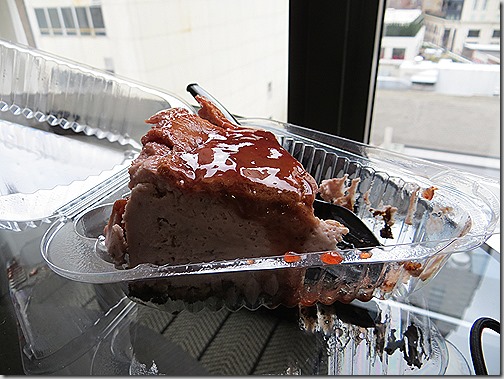 The strawberry cheesecake was a fine dessert, but I still preferred the chocolate. I also brought home a couple of goodies – savory salad toppings: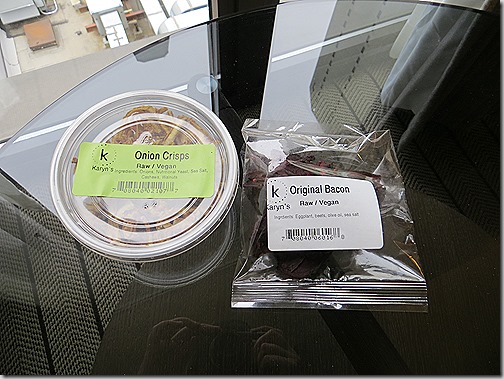 And a couple of cookies (which came in very handy the night I got stuck at the airport a couple of days later on my way back to Washington):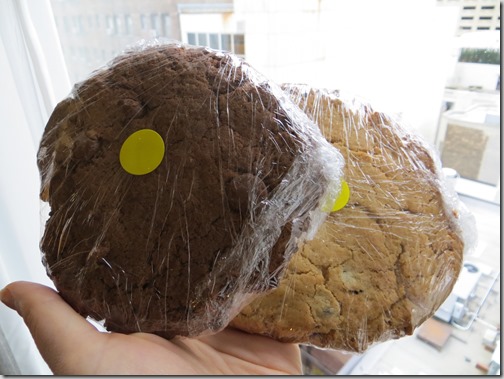 The Snickerdoodle was lovely, but I think the Double Chocolate Chip was my favorite. One of the downsides of eating semi to high raw, as much as I enjoy it, is that I forget how much I enjoy a warm, grounding cooked meal, mainly because I forget to make them.  Lunch at Karyn's was a really great reminder of the magic of beans, rice and vegetables, cooked with lots of great seasoning and flavors.  It is definitely worth a visit if you live or find yourself in Chicago.
General Disclosures
&
Disclaimers