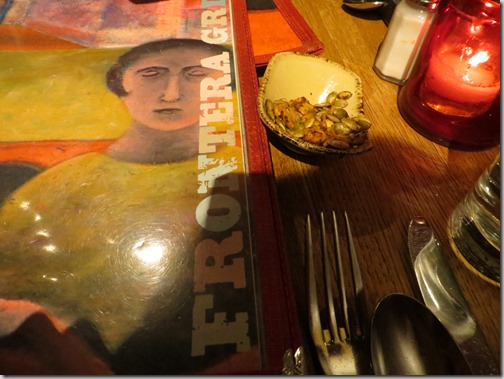 When my husband and I were first discussing our brief stay in Chicago, Frontera Grill was high on his list – I was shocked I was able to make a reservation for a Saturday night, which was the only night we could go based on my work schedule.  I called Frontera Grill  the day my job confirmed I was going to Chicago that week, about 3 weeks before I would be there, and got the last reservation available that night.  When I spoke to the hostess she mentioned the menu would be changing in those three weeks, as the menu changes seasonally, but that they could accommodate gluten-free vegan diners.  I had also read Johnna's review of her meal at Frontera and was optimistic.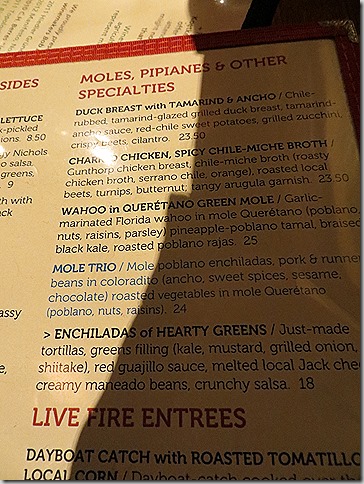 The menu was indeed promising in a lot of ways – enchiladas with hearty greens, a mushroom options with the tacos and a long list of vegetable sides.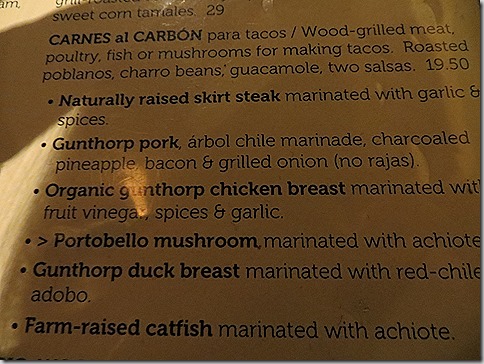 Our waitress was also fantastic, and completely understood gluten-free – and, with some due diligence, figured out an area on cross-contamination which I would never have thought of.  As it turns out, this particular Frontera menu iteration is pretty reliant on flash-fried garlic for flavoring a lot of its dishes – including some of the salsas, several of the vegetable dishes, and the vegan bean dish.  And, there is no dedicated gluten-free fryer, which means the garlic bits effectively took out a bunch of options I had been eyeing.  While the waitress conferred with the chef to figure out some options for me, I happily ordered the Jicama Street Snack – spears of cucumber, jicama and pineapple, with a nice dose of lime juice and guajillo chile.  This was crunchy and refreshing, and the sweetness of the pineapple was a really lovely counterpoint to the cucumber and jicama.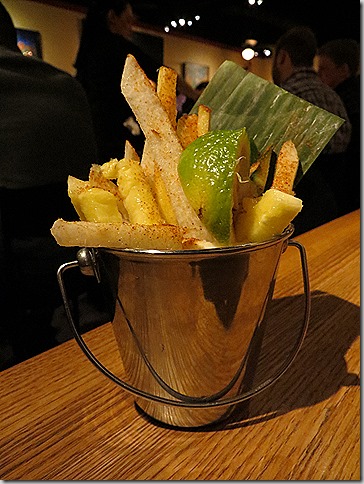 I also had the guacamole, which had a really specific savory feel to it – turns out if has finely minced sundried tomatoes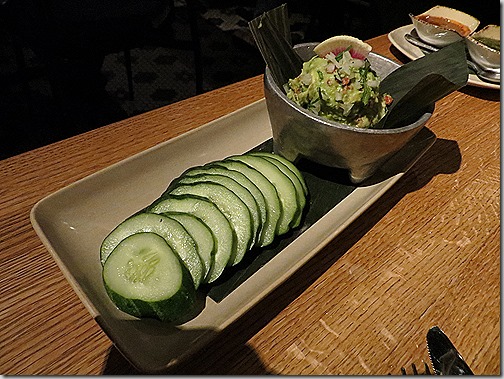 After conferring with the chef, the waitress suggested a modified approach to the portobello mushroom tacos, along with a made-just-for-me version of Frontera's tomatillo salsa, some veggies, more guacamole(!), and corn tortillas. The idea was essentially a mini taco bar with all gluten-free and vegan options.  Behold the deliciousness: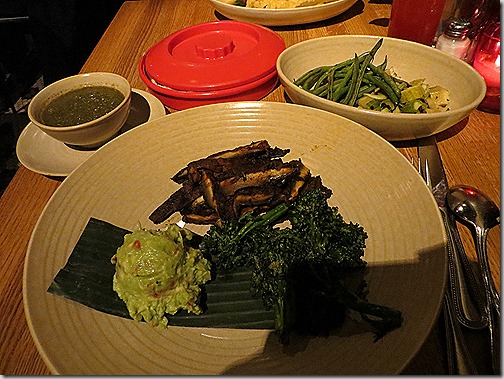 The portobello mushrooms were seasoned unlike any others I had had before. Something about the combination of the achiote and the cooking approach (I am guessing a quick pan-sear of sliced portobellos) gave the portobello an almost meat-like consistency.  I never really see how mushrooms are meat substitutes – I mean, mushrooms are good on their own, and do have a meat-life umami, but I never find that the texture is meat-like – the sliced portobellos at Frontera Grill changed my mind on that point.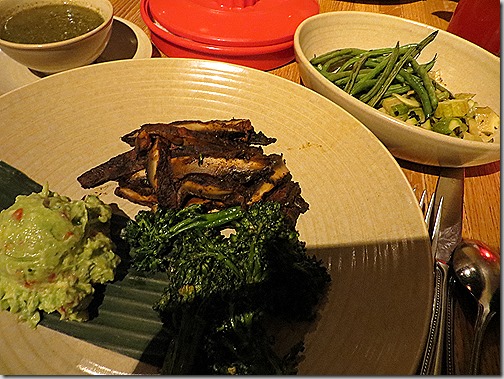 All the veggies were separately prepared for me, so as to avoid their regular counterparts which are seasoned with the flash-fried garlic.  While the preparation was simple and they vegetables were very lightly seasoned, the flavor punch of the portobellos, the salsa and the guacamole made my veggie tacos wonderfully satisfying, with multilayered flavors.  I was very impressed with the food but also the waitress' care, as well as the kitchen's care.  It took a little bit of time to sort out what I could eat and it seemed that this iteration of the Frontera Grill menu was less gluten-free friendly that other version of the menu, I still walked away having eaten an amazing meal. 
General Disclosures
&
Disclaimers