So it has been pretty quiet around these parts.  My resolution to blog more in 2014 has not exactly happened as I expected.  I feel like I blinked three times and it became mid-March, and yet I feel like it was just the end of January.   
I did end up deciding what to do about resolutions – I went with a variation of simply having fun, loving one's self more, and eating more chocolate – mine is having fun, loving myself more, eating more dark chocolate, and focusing on connecting and reconnecting with people.  The connecting part was something that I have been thinking about a lot the last few months – life just goes by so so fast, and one way to make it pause is to connect with myself and with others. The reconnecting part of these resolutions is because several long-time friends and acquaintances have reappeared in the last few months, and it has been really wonderful to catch up.  It has also made me think of how to use all the different ways we communicate today to stay in touch with people.  I am dedicated to email – it is my favorite – but I often get behind on it, and am starting to see the benefits of using multiple modes of communication to be in touch with someone.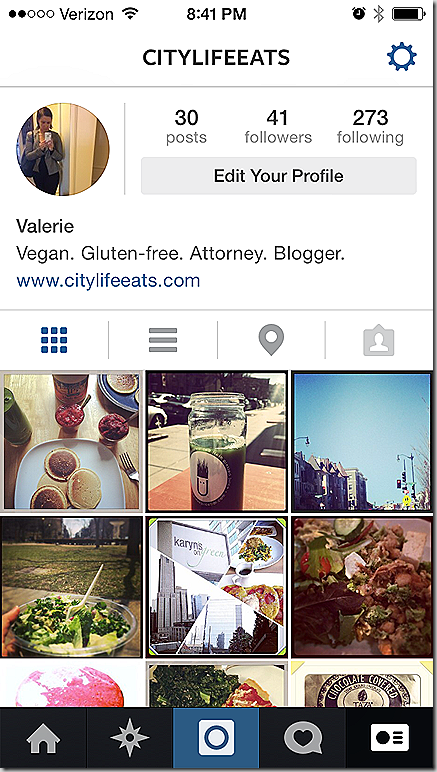 And speaking of communication, I also got an iPhone – after years of wanting one – and finally joined Instagram … to say I am obsessed with Instagram is kind of an understatement. I remember when twitter came out, there was a lot of talk of micro-blogging, but somehow I never could see twitter as micro-blogging – it might be the limit on the number of characters, or the fact a twitter timeline is so text-heavy. Instagram seems to solve all these problems, and has been really great for days I do not want to pull out my camera, but still want to share with all of you. 
Like this morning – I made very basic pancakes (with garbanzo fava bean flour, water and vanilla extract), and topped them with a cranberry fruit sauce and a strawberry chia fruit sauce and maple syrup. Part of me really wanted to blog the whole meal – it was that pretty – but both my husband and I were hungry and brunch had already taken too long to prepare, so I instagrammed instead: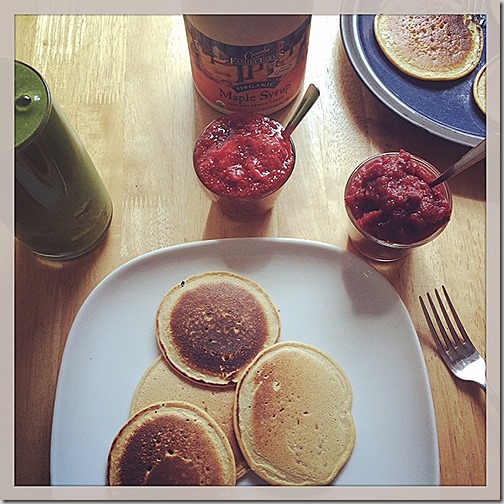 As it turns out, the pancakes were good, but not great (super basic meant the texture was a little dry) so I would not have written up the recipe anyways.  Also, today's brunch, as nice as it was, made me miss Karyn's on Green – brunch there in December was definitely a vegan food highlight for me.  But anyways, Instagram provided the best of both worlds in that I got to share how pretty the meal was (yes, that's a banana spinach smoothie on the side) but could do in a micro-blog way, rather than a traditional blogging way. Also, interestingly, I find myself tweeting more than I used to, likely because of my comfort with Instagram.
Looking at the last few weeks and ahead at the next few weeks, it is likely that posts here will continue to be sporadic, so I encourage you to follow me on Instagram in addition to this site.
General Disclosures
&
Disclaimers