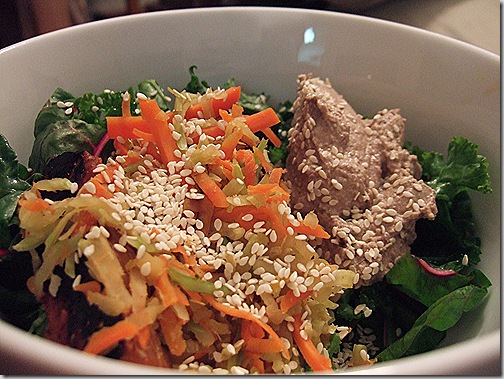 Happy Saturday! I am off to yoga shortly, then a haircut, then work, but wanted to share this quick and savory carrot broccoli slaw.  It is perfect served atop a green salad (I had it with some of this Walnut Lentil Pate), or stuffed into a wrap with some garlicky hummus.  You could, of course, serve it as side.  The recipe originated from me needing to use up some broccoli stalks that I had forgotten to juice, and I am quite pleased with the result.  By shredding and gently cooking the broccoli stalks, they are not woody at all.  I made it with tempeh, but you could substitute mushrooms for a soy-free option, or simply make the slaw without either. It has a nice savory sweet flavor profile, though I like to use a full teaspoon of hot sesame oil, which gives the recipe a nice heat without being too spicy.
Warm Carrot Broccoli Slaw (Gluten-Free, Vegan, Soy-Free Option) – 2 to 4 servings, depending on other sides you are serving.
This recipe calls for shredded carrots and broccoli.  I use broccoli stalks leftover from cutting florets to make steamed broccoli to make the slaw.  To use broccoli stalks, trim any of the woody bits and run through the food processor using your shredding blade.  You could, of course, use broccoli heads and stalks to make the slaw.  Regarding the chili oil, I am very partial to Eden's Hot Sesame Oil, because unlike other spicy oils, Eden's contains only expeller pressed sesame oil and red chili peppers, with no dubious vegetable or soy oils or the like.  Also Eden is very transparent about their gluten-free practices, which I appreciate.
1 8oz package tempeh (be sure to use tempeh that does not have gluten-containing grains in it) or 8oz sliced mushrooms (a large portobello would work well there)
1/4 cup gluten free tamari (use coconut aminos for soy-free), separated into two two tablespoon portions
1 tablespoon agave or other liquid sweetener of your choice
1/2 teaspoon smoked paprika (sub 1/4 teaspoon cumin and 1/4 teaspoon regular paprika if you do not have smoked paprika on hand)
Grapeseed oil
2 cups shredded carrots (about 4-5 large carrots)
3 cups shredded broccoli (about 3 broccoli stalks)
1/2 to 1 teaspoon hot sesame oil (I used 1 teaspoon)
Sesame seeds for garnish
Slice tempeh in strips along the short side. Slices of tempeh should be about 1/2-3/4 inch if possible. Combine two tablespoons of the tamari, agave and smoked paprika in shallow bowl.  Place tempeh in marinade, and allow to marinate at least an hour, flipping over halfway through so that the tempeh absorbs all the marinade.
Lightly oil a skillet and heat over medium heat. Remove tempeh from marinade and cook tempeh, until browned on each side, about 2-3 minutes.  If using mushrooms, saute mushrooms for about 4-5 minutes, adding a tablespoon of marinade if the mushrooms stick.
For the slaw, place shredded broccoli and carrots in a large saucepan, with the remaining two tablespoons tamari and turn the heat to medium low. Your goal is to wilt the vegetables a bit while stirring so that the tamari is absorbed.  This takes about 2-3 minutes if you want to keep the vegetables with some crunch, 4-5 if you want them completely cooked.  Add a tablespoon or two or water if things stick.
Once the vegetables are wilted down, add hot sesame oil and stir to combine. Then add tempeh  and toss well to combine.  Taste for seasoning. I like a drizzle of agave, but you may want additional hot sesame oil or tamari.  Before serving, sprinkle with sesame seeds.
I am submitting this recipe to the following weekly events: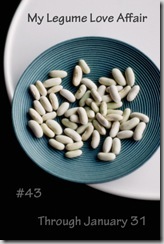 Considering there are soybeans in this recipe in the form of tempeh, I am also submitting this recipe to 2012's first My Legume Love Affair installment, hosted by Chez Cayenne.  MLLA was created by Susan of The Well Seasoned Cook and is an event focused on the humble legume. 
General Disclosures
&
Disclaimers