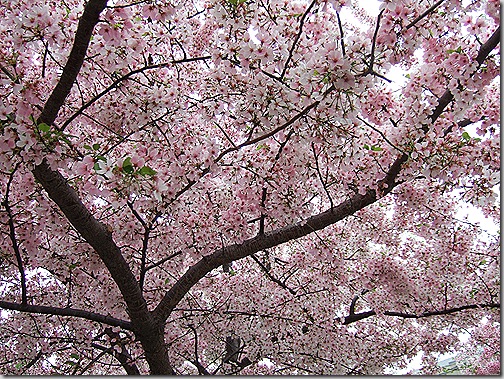 Cherry Blossom season peaked early here in Washington, DC.  Visiting the Tidal Basin and walking amongst the blossoms is always one of my favorite activities, and I was glad I made it this year.  Sitting on a bench under a sea of pink and white was a lovely break after a few high-intensity months.
This is where I would say I sat on the bench and reflected on the last couple of months, but truth be told, my husband and I were too busy chatting and people-watching.  Visiting the cherry blossoms involved seeing many toddler meltdowns, a couple getting engaged, and a wide array of cameras and photography enthusiasts.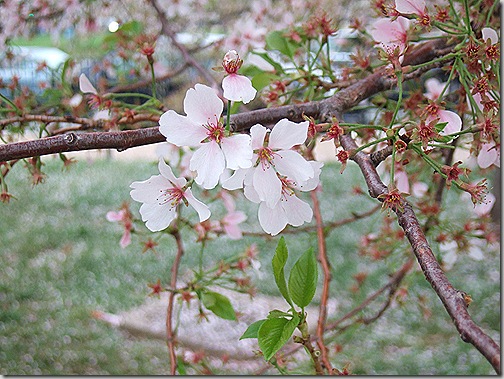 Nevertheless, had I not been so distracted by my surroundings, there was much to reflect on – I am wrapping up at my job this week, and starting a new job next week.  I also fit in a quick trip to New York in March. I have been quieter than usual on the blog front for several reasons, one of them being that I have had quite the streak of meh recipe creations this winter – some decent ones, but only a couple truly outstanding ones. You have seen those, Spicy Lemon Hummus, Arugula and Broccoli Salad and, over at the Balanced Platter,  Lemony Black-Eyed Pea Hummus.  Lately, there have also been simple, speedy, but delicious eats.  Lots of variations new and old favorites: Red, White & Blue Smoothie, Arugula and Broccoli Salad, Romaine Kale Salad (it works with chard instead of romaine), Raspberry Swirl Chia Pudding (just as good with blueberries as with raspberries), many hummuses (hummusi?), and a new twist on quinoa that involves mustard and thyme. 
I finished up the  21 day yoga challenge in January – the last week involved 4 7am yoga classes, a yoga 1 and yin double feature, and restorative on the last day.  All in all it was a lovely experience, but not one I am keen on trying again soon. I found the combination of lack of sleep (interviewing + working at my job = not much sleep) and 21 days of yoga tough on my body, and actually incorporated lots walking into my exercise routine in February as a result.  My latest favorite addition to my movement routine is walk/running (mainly walking) a mile to a Whole Foods one neighborhood away (as opposed to my local one), picking up green juice, and walking the mile back.  It makes for a nice low-impact workout, perfect when feeling tired.  I think of those walks as green juice walks, and I went on many of those the last couple of months.
A little recap of movement in February and March:
February movement: 1 yoga 1 class, 1 evening all levels yoga class, 4 7am all levels yoga classes and 3 restorative yoga classes.  There were many green juice 2 mile walks (7?) that month, and 12 gym jaunts (elliptical and/or bike).
March movement: 4 yoga 1 classes, 5 7am all levels yoga classes, 2 restorative yoga classes, 10 30-minute jaunts to the gym (most to use the elliptical though 3 of those visits involved the stationary bike), 3 indoor/outdoor workouts (2 mile walk + 15 minutes on the elliptical), and 5 2 mile walks (aka green juice walks).
Aside from working, interviewing, movement (yoga, walking, gym) and eating many favorite go-to recipes, the last two months have been pretty quiet. I did have the chance to get together with Lisa to art journal (her recap here), and also attended an Art Journal workshops (write ups by Lisa + Christine), both of which were welcome breaks.
Here are some ways I plan to make April memorable:
Transition to new job
Yoga on the Mall
Cherry Blossom Festival (I went two years ago – such fun)
More art journaling
Declutter – I am on a kick and plan to keep the momentum going
Continue movement routine, despite adjustment to new job and new commute
Celebrate husband's birthday
Experiment with flatbread recipes
Resume regular blogging schedule
How are you making this month memorable?
General Disclosures
&
Disclaimers