As January draws to a close (where did it go?) I have thought a lot about what I want to do this year in term of goals / resolutions / themes.  Initially I had a long ambitious list of things I want to accomplish – but that was more of a checklist, which, to me at least, is not the point of New Year's reflections.  Then I thought of picking a word for the year, or a theme, like I did a few years ago, or perhaps monthly goals.  I was still undecided, but then it all started clicking when I read Shirley's comment: 
So far the resolutions that are appealing to me the very most are simply having fun, loving one's self more, and eating more chocolate. Sadly, none of those were my own ideas, but I'm thinking that if I embrace them, a lot of things that have been on my "to do" list for a long time are going to "magically" fall into place
I love this idea, which I am adopting, but I want a little more … structure? Maybe a framework? So right now (the next-to-last day of January), I am almost settled on the idea of a word per month – it seems to bring all these concepts together.  I am starting to think that November this year might need to be #noexcusesnovember, so that I actually do some of this thinking before the following year begins, as opposed to starting this process during January, but in the meantime I want to do a little more thinking on that.
One thing I did decide on in January is that this year I want to do a day-in-the-life post every month of 2014. I love reading other bloggers' day-in-the-life – I find these posts fascinating, but it also occurred to me that I would love to look back on my own days-in-my-life at some point, however mundane.
Unlike my old job at a law firm, my days now tend to vary more.  While the majority of my days are still at-the-office days, I do have days of meetings out of the office, like today yesterday.  Those tend to happen quarterly, sometimes monthly.  They also seem to tend to cluster in the same week, like this week.  Below was my day today yesterday:
5.45am – Alarm goes off.  This is earlier than usual but I have to be out the door by 6.45am/7am today.  Like every day this last month, I immediately check the weather. Today it  might break 30F (-1C), absolute and real-feel, but currently it is in the single digits, even without the wind.  I know it is way colder in other parts of the country, but still, I am so over the weather in DC. 
5.55.am – I finally get out of bed, put in my morning eye drops, take my thyroid medication, brush my teeth and then sit for a few minutes. I wish I could be one of these people who bounds out of bed, but even at my best-rested, I usually have 15 minutes of "coming on line" sitting up.  I have tried to meditate in that time, and should probably try that again. 
6.10am – Super-hot shower, which is the best way for me to wake up.  While shampooing, I debate the merits of skirt versus pants – I have skirts and pants for most of my suits, including the suit I plan to wear today.  When it is this cold, I prefer skirts with tights with warm boots (I rotate a couple of vegan Earth pairs that are warm and wonderful) but I want to avoid having to switch shoes when I get to my out-of-the office meeting. My purse is going to be so full, and boots take up space.  
Sometimes I think I spend a lot of time thinking how to lighten my always-enormous purse.  I decide to go with the pantsuit option, mainly because I am sick of wearing skirts and do not want to carry my boots around, plus it is far warmer today than it has been for weeks. I do not usually lay out my suit the night before, but since this was an early morning, I did some prep ahead of time.
6.20am -  Shower done, hair combed into place (I never blow-dry, always air-dry), I get dressed. I decide to wear super-heavy socks under my professional trouser socks, and dig out a pair of flats that are on the larger end to accommodate the heavy socks.  I put my contacts in and my makeup on.  This is about the time I usually get up, so I start moving a bit faster.
6.35am – Finish up my makeup, which is very fast these days, largely because my makeup routine is so much more pared-down than a few years ago.  I look healthier at 35 than in my 20s, when my skin was either red or pale (or both) from inflammation.  I am so so glad I found out in my early 30s I should eat gluten-free, and dairy-free – my skin immediately improved, and instead of needing a lot of makeup to look healthy, I now need just a little to look polished.  I use mostly Zuzu makeup and 100% Pure products – all vegan and gluten-free. 
6.40am – Check my purse, which I packed the night before. I have a notepad, a small manila folder, my IPAD (loaded with a ton of documents so I don't have to bring printouts), usual purse stuff, my lunch and oh dear god, why is my purse so heavy and so stuffed-looking. Why? This is a frequent state of annoyance for me – other women seem to either need less stuff than I do, or pack it better.  Lunch is pretty haphazard today –  I was feeling remarkably uninspired last night. I have homemade hummus I made Monday night, my favorite store-bought kale chips (they were on sale at Whole Foods last week) and I should have crackers for the hummus, except I did not buy any recently, telling myself I would make some. Turns out, that was too ambitious considering how the week unfolded, so I didn't make crackers. Sigh – I pack seaweed snacks instead. I know from experience they work surprisingly well with hummus.
6.50am – I have no appetite this early, especially without working out first (in light of my early start, I moved my workout time to after work today), but I need to eat, especially as I need to take my morning supplements.  I have some sliced apple and raw almonds (I am out of almond butter), as well as a small mug of a chocolate hemp seed faux-latte, similar to my Pumpkin Spice latte -  it is an experiment to make a more chocolatey version of the Pumpkin Spice latte which I plan to post on the blog when I am happy with it.  I made it last night knowing that I needed something with protein that was chocolatey and tempting to get me to have it this early in the morning.  Still, it is too early to eat – I do not finish the apple, and pack it to take with me.  
7am – My husband gives me a sleepy good-bye kiss before I leave and I head out the door. Today I am attending a seminar at a government agency – the good news is that it is about a 10-15 minute walk from my office, which mean I make the same subway commute, but need to head in a different direction when the subway arrives at destination.  Since it is the same metro stop as my job, I do not have to look up timing or anything.  I just do my usual commute routine, which, in the morning, means I walk one subway station further than the one closest to where I live. It is a way to get some fresh air plus that particular metro station is way less crowded than the one right by where I live.
7.35am – Make a quick stop at Le Pain Quotidien and then arrive at destination.  As I am not a government employee, I need to go through a very long security line.  Our rockstar paralegal at work pre-registered me so I can skip one of the security lines, but even the line for pre-registered people is very long.  The instructions to pre-register had been several pages long and involved sending in a picture of specific dimensions, so I am grateful she took the time to figure all of that out, as I pick up my badge with no issue once I get to the beginning of the line.
8am – I am in the auditorium where the seminar will occur, starting at 8.30am. I use that half hour to answer work emails on my IPad, stopping to chat to the people sitting near me.  I also text with a friend who has the flu.  Someone sitting next to me compliments me on my shoes, and is shocked that they are non-leather flats from Old Navy.  I neglect to tell her I paid $12 with a coupon. 
8.30am – Seminar begins. I switch from IPad to my notepad to take notes (I use yellow ones for out-of-the office notes), keep an eye on my phone for emails, and eventually pull my IPad back out to type up a longer email to answer an email. 
10.30am – Break. I step out of the auditorium (no food allowed there) and pull out the coconut chia pudding I picked up at LPQ by the subway exit.  While on the subway, I realized  I forgot both my snack bar and the chia pudding I had prepared last night. I have had good luck eating at LPQ – despite being all about the quotidian bread, LPQ does gluten-free well, so in a pinch, like today, I am glad there is an LPQ right by the metro exit.  I eat the chia pudding and the last of my breakfast apple while responding to work emails.  The person next to me asks why my greek yogurt is lumpy.
10.45am – Seminar resumes.  The current panel includes someone who looks really familiar. I eventually realize we went to the same law school.
12.15pm – Seminar breaks for lunch. I wish I could stay, but the afternoon topics are less relevant to my work and I have meetings and calls. I stop by to say hello to the panelist from my law school.  Then I head back to the office.  I run into someone else I know on my way out and since we both have a few minutes, we sit down and catch up.  This is actually one of my favorite ways to network – short, quick conversations when running into someone I know.  Sometimes it is so hard to schedule time to meet,so these chance meetups are great.
12.25 –1.06pm – Between the quick networking meeting, waiting in line to drop off my badge at security and walking back to the office, time sped up and it is now past 1pm.   I have 54 minutes before 3+ hours of calls.  I return a phone call and write two emails, then review notes for my 2pm call and 3pm meeting. 
1.24pm – My colleagues have figured out I am back in the office and all of a sudden three people are in my office in quick succession.  First, I talk to a law clerk about legal research he is doing for a larger project I am working on. Then I start thinking about lunch, when another lawyer has a question about a matter we are working on.  I have a policy to not eat during meetings with colleagues, but I really want to eat before I get on my 2pm call. 
1.40pm – The conversation switches to another matter, and our paralegal walks in with a question about something else. At this point, I give up and start eating while meeting with my colleagues.  I feel lucky we work so collaboratively. 
1.45pm – I realize the only way to eat my kale chips (which broke into tiny pieces, likely from transit in the world's most over-stuffed purse) is with a spoon. I concentrate on not spraying kale crumbs while talking. I am somewhat successful. 
1.59pm – Impromptu meeting suspended so I can get on my 2pm call. 
2.47pm – Call ends early. Run to the bathroom because the last two times I tried to walk there I got interrupted.
3pm  – Move to a conference room for a larger meeting, which includes people on the phone as well. I have a brief presentation – because I knew this would be a hectic day, I had prepared talking points the previous day and reviewed them earlier in the afternoon.
5pm – The meeting is over. I discuss follow-up with a colleague before focusing on work and emails.  As much as I apprecaite out of the office meetings, the inherent catch-up at the end of the day from not being in the office never ceases to amaze me.
7pm – Call it a day. Take subway home. On the subway I begin to motivate myself for going to the gym.  This is why I prefer to go in the morning, but there was no way I was going to get up at 5 am to go to the gym by 5.30 in freezing weather. Decide to bribe myself with SweetPress in exchange for a trip to the gym tonight.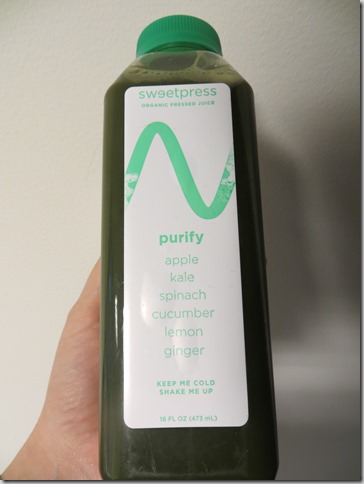 7.25pm – Stop at SweetGreen to pick up green juice. I also pick a green juice up for my neighbor who has the flu. Text her to say I will drop it off momentarily.  She is up, so instead of leaving the green juice in front of her door, I stop by and we chat briefly. 
7.45pm – I am home.  I know I could get totally sidetracked from going to the gym, so change straight into gym pants and sneakers. I switch coats, but take my sports bra and top and heart rate monitor to the gym to change into. I know if I change at home, it will take forever, so I focus on getting back out of the door.  I alternate between changing and downing my SweetPress.
8.10pm – I am a the gym. I finish changing and head to the treadmill. At this point, I am starting to feel tired, so I walk on the treadmill at an incline – just enough to get my heart rate into the 140s, but nothing intense.  I wonder if workouts like this – designed to not lose the gym habit, but which are, at best, phoning-it-in workouts in terms of intensity – do anything.  As nice as it is to be moving, I kind of regret having made the effort to come here. After 25 minutes, I hop off the treadmill and head home.
8.50pm – I am back home. Since my workout was fairly light (read, I barely sweated), I just change into warm dry clothes.  I reheat some lemony white bean soup (which is even more hummus-like than when I made the soup a couple of days earlier) and eat dinner while talking to my husband.
9.25pm – Begin writing this post, revise a document for work which I circulate over email, think about making a list for the following day and start getting sleepy….
10.45pm – Give up on finishing this post tonight, put in eye drops, brush teeth and head to bed.  Think about prepping breakfast for the next day, but realize I still have chocolatey hemp milk and apples, so am all set.
11pm – Lights out.
General Disclosures
&
Disclaimers