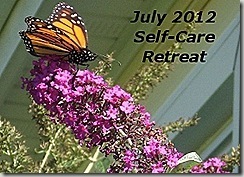 Did any of you read The Busy Trap, published recently in the New York Times? It is so a propos to self-care:
If you live in America in the 21st century you've probably had to listen to a lot of people tell you how busy they are. It's become the default response when you ask anyone how they're doing: "Busy!" "So busy." "Crazy busy." It is, pretty obviously, a boast disguised as a complaint. And the stock response is a kind of congratulation: "That's a good problem to have," or "Better than the opposite."
The peer pressure to be busy is directly in conflict with self-care, including one of its cornerstones: getting enough sleep and rest:
Notice it isn't generally people pulling back-to-back shifts in the I.C.U. or commuting by bus to three minimum-wage jobs  who tell you how busy they are; what those people are is not busy but tired. Exhausted. Dead on their feet. It's almost always people whose lamented busyness is purely self-imposed: work and obligations they've taken on voluntarily, classes and activities they've "encouraged" their kids to participate in. They're busy because of their own ambition or drive or anxiety, because they're addicted to busyness and dread what they might have to face in its absence.
I can particularly relate to the last sentence of that paragraph.  Let's face it – many of us Type A folk are busy because we are ambitious – we don't just want to succeed at jobs and careers, but also at life, which can mean different things to each of us:
Almost everyone I know is busy. They feel anxious and guilty when they aren't either working or doing something to promote their work. They schedule in time with friends the way students with 4.0 G.P.A.'s  make sure to sign up for community service because it looks good on their college applications. I recently wrote a friend to ask if he wanted to do something this week, and he answered that he didn't have a lot of time but if something was going on to let him know and maybe he could ditch work for a few hours. I wanted to clarify that my question had not been a preliminary heads-up to some future invitation; this was the invitation. But his busyness was like some vast churning noise through which he was shouting out at me, and I gave up trying to shout back over it.
Living in Washington, DC, the entire article particularly resonated with me.  The fact I am writing this Saturday late in the evening, after a morning spent on practicing a presentation for work with a friend, and an afternoon spent visiting with two other friends, followed by dinner and a post-dinner nap before I got back to finishing this piece – well, let's just say the irony is not lost on me. 
I had initially meant for this piece to be about cultivating friendships with others who support one's self-care and wellness endeavors, including both avoiding foods that make me sick (which is a form of self-care) as well as moving more.  I am so lucky that over the years many of my friends have been wonderfully supportive in a variety of ways:
Initially this piece was going to be about cultivating this support but here is the funny thing: I am not quite sure how I did that.  These lovely ladies did this of their own initiative, and for that I am very grateful.  I suppose the two key things have really been communicating my goals and accepting the support.  This blog helped to some extent with the communication piece,as I would talk about these goals here, which was an indirect way of communicating what I was trying to do, though I also shared my goals with some of them more directly.  Many of my friends have been very supportive generally, in addition to the ladies I have mentioned above.
That said, it has not all been sparkles and unicorns.  Not all my friends have been supportive – I actually wrote last year about one particularly upsetting episode about a friend who was just not willing to be accommodate or understanding when I initially changed my diet and was going through an adjustment period and dealing with cravings. I have also had several friends and acquaintances be less than complimentary about the recipes on my blog or, more generally, my approach to food.  Sometimes these comments come from a place of concern (especially from friends who know I had had a lot of issues with food restriction) but sometimes the comments are just plain judgmental.  I know that food is an emotional topic (year-round, but also especially on holidays, as I wrote here in healthier through the holidays).
I have more thoughts on support and connection with regard to self-care, but it is already quite late and I need sleep.  I see a follow-up post on this topic brewing though and, in the meantime, please leave any thoughts on this topic in the comments!
Finally, more information on our retreat this month:
Our fantastic group of bloggers and themes:
These posts are to inspire you all to make July a month of reflecting on self-care and the many ways to nourish ourselves. We would like everyone to participate in this event in a way that feels appropriate to them, whether that's through personal reflection, journal or other self-care. If you would like to share your experience with self-care, we would love to include you in the experience, whether you join us for one week or every week. You can write generally about self-care and how you include it in your life, or "try on" one of the practices we're blogging about over the course of the next week (food, support and connection, movement, creativity and inward reflection). We ask that you link back to this post so that more people can learn about this retreat, and leave a comment for the weekly theme host, too! At the end of the month, we'll include a roundup of all the self-care posts you write to inspire others to work on their own self-care.
As a little added incentive, for each post on your goals and your progress you link back here or one of the other co-hosts, you'll be entered to receive a $50 gift certificate to Nuts.com (they are not sponsoring, Cheryl is donating this gift and wanted something with healthy gluten-free, vegan, sugar-free, etc. options).
I updated last year's badge to use for the retreat; feel free to use it in your posts. If you would like to be included in our roundup and the drawing, please email a link to your post, along with your name and blog name, to us at selfcareretreat at gmail dot com by July 30, 2011.
Non-bloggers who would like to contribute, please e-mail the full text to the same address and it will be included in the roundup.
For a "flavor" of previous retreats, here's a link to the July Self-Care Retreat and the December Sanity Retreat.
General Disclosures
&
Disclaimers